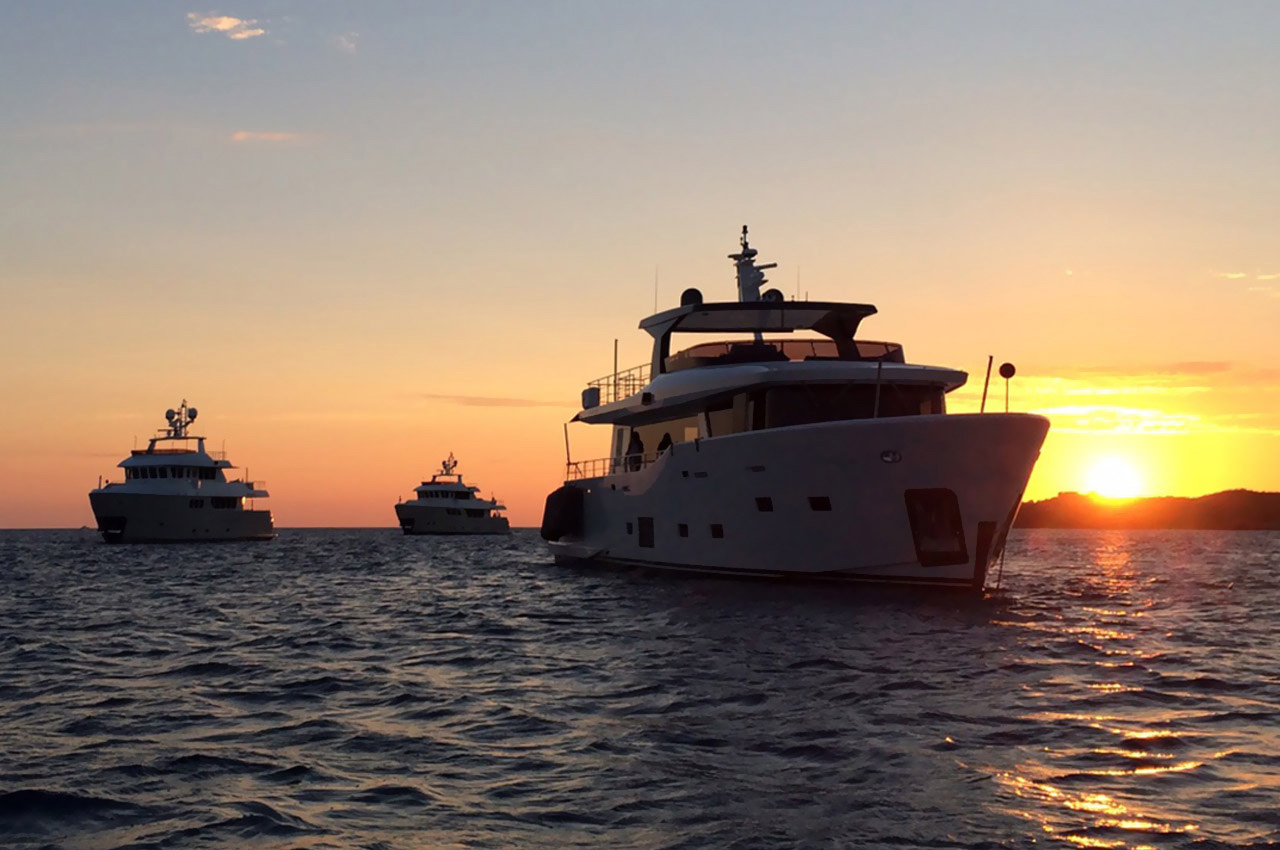 3 VESSELS, 3 DIFFERENT STORIES AND REASONS TO BE SPECIAL
Ennio Cecchini - CEO
CANTIERE DELLE MARCHE,
ANCONA, 22 SEPTEMBER 2015
Here we are again in Cannes, with three stunning CdM vessels stopping by to show themselves to yachting passionates after a successfull season cruising the Med.
Each and every one of these vessels have different stories, different owners and different purposes. Each and every one have their own stories, and their reasons to be special.
And I love all of them the same, like three children of mine. (Who builds custom yachts knows what I mean...)
The Nauta Air 90: stylish, elegant, a little snobby with her simple and timeless lines. Her incredibly spacious fly bridge makes of her the perfect social companion. The huge windows and saloon doors create a perfect space where in and out share a very flexible border. Her stability, proven during my days in Sardinia with her owners and her absence of noise and vibration make you forget that you are on a yacht.
The Darwin Class 86: 4th of the series and 8th hull built, brings me back to the beginning of this joyful venture. After Vitadimare 3, the Darwin 86 has improved and improved both technically and aesthetically. This is the first Darwin 2.0. 206 GRT in only 86 feet. A perfect lay out where the operational areas are key for quality of life onboard of the owners. In this specific unit, I cannot avoid to remember the hours spent with the owner discussing the mixed hater system, the third generator in parallel with the two main gensets, the paint cycle, the material for the shaft. This is what I love and this is why I love this boat so much!
The Darwin Class 107: the flagship. The first client (soon followed by others) moving from an aristocratic northern european shipyard to us. The first vessel built over 100 feet. Love at first sight both with the owners and the crew. Experienced, pragmatic, voted to long passages. When this kind of chemistry happens, you know since day one that it will be a successfull yacht!
I still have goosebumps remembering the smile of the owners looking at her the day of the launch...
Ok... Ok, I know that I would have been supposed to give technical description of the vessel we are presenting this year at the Festival de la Plaisance. But that is something anyone can do.
Where we make the difference here at CdM is that, even in such high quality vessels, where the precision and the reliability of the engineering have made us so successfull, we always focus on the soul of the project.
On the importance of the emotions our boats are going to give to their owners.
Yachting is made of that. CdM is made of that. And I am proud of it.
YOU MAY LIKE
THESE ARTICLES
link to article
UPTIGHT: DESIGNED
FOR OFFSHORE FISHING
Simon MIlovanovic Varvaro - Senior Project Manager