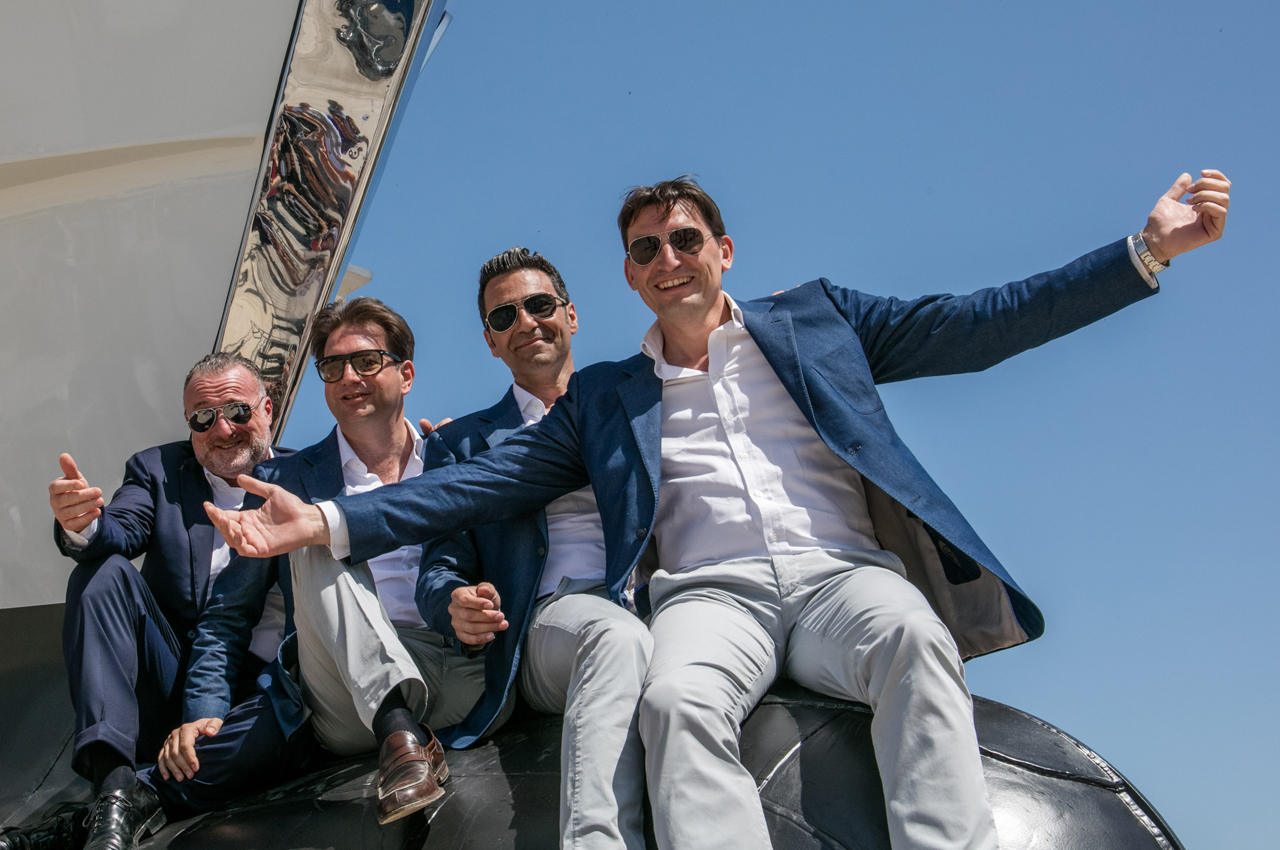 A YEAR OF
GREAT SUCCESS
Bruno Piantini - Managing Director
CANTIERE DELLE MARCHE,
ANCONA, 04 MARCH 2018
We hear a lot about the "recovery" of the yachting market, how was this past year for Cantiere delle Marche? Surely we perceive a great excitement in the market, however the growth production figures of the Italian shipyards are generally still quite contained and certainly still much lower than the pre-2008 peaks. With regard to Cdm, on the other hand, a year of great successes and great growth in all aspects has just ended: in the commercial field we have sealed the sale of 4 very important orders between 39 and 41 mt and, also thanks to the fact that we obtained numerous prestigious awards, we have consolidated our constant Brand Awareness growth also on new markets.
Production wise, among others we delivered the new Nauta 111, our current flagship of the CdM fleet, and in 2017 we have achieved a Production Value growth of 18% (with an average annual growth rate of the period 2013-2017 of 50%). Not only that: we have completed the construction of a new shed of about 1,200 square meters (12916.69sf), where we are building a 43 mt (approx. 138ft) of 500GT, and a new warehouse area of about 400sqm (4305.56sf) is underway.
Of course the growth brings with it the organization: we have grown our "family" with some strategic reinforcements with great experience, keeping intact the philosophy of having a lean structure made of grand competence and motivation.
In light of these extraordinary results, what do you expect for the near future? To answer this question I must necessarily start with a figure: to date we have 8 orders sold. It is clear that this figure, added to the progress of the negotiations underway, is projecting us towards further 2-digit growth for the next two years, a growth which is certain because based on already concluded sales and on defined products, and which is also sustainable, precisely because of the financial soundness of the company and the organizational reinforcements introduced in recent months. As for the projects for the near future, products wise we are developing and building 4 prototypes between 37 (121ft) and 42 meters (137ft), each featuring a strong "Explorer" personality, but also strongly characterized on the customer's needs. Top secret, on the other hand, is the launch of two new range products that will certainly thrill our target market even more.
Looking even further, where do you want to be in 5 years? The Global Order Book 2018 data have just been released, which see CdM at the 19th place among the world shipyards for the total amount of yachts sold; someone thinks that we want to climb the rankings and become bigger and bigger. To be honest, so far our growth has come as a consequence of our way of working and above all as a consequence of the satisfaction of our shipowners, our captains, and the enthusiasm of all the people who work with us. Our aim therefore remain the same: to make always better vessels, to keep making our shipowners happy, by thinking of their needs from when they start imagining their new yacht to when they will resell it. This can happen only working with happy and motivated people, being a healthy and responsible company. At this moment we have many opportunities to grow and improve: we will take these opportunities, and when necessary change what has to be changed, but one thing is certain: in 5 years the CdM spirit will be unchanged and our yachts will continue to sail safe around the world making our shipowners happy.
To conclude, what do you think differentiates you from your competitors in a nutshell? I do not assume to know or judge others shipyards, but after almost 15 years of experience in the nautical world, one of the strengths of our shipyard seems very evident to me. In CdM almost all the energies and attentions are concentrated on the product and on the customer: everyone who works at Cdm, in every position and role, thinks about that, we are almost obsessed with improving and making the boat owners satisfied. Very little energy is dispersed, there are no difficult relationships to manage, different projects to be given priority; we do everything we do thinking about the product and the customer, close to the products and the customers. This great passion makes everyone "attracted" to the product and everyone spend most of their time on board. I myself go on the yachts under construction every day when I am in the yard and I always try to know all the details and to learn something new every day. I believe that this love for the shipyard towards the product and our strive towards customer satisfaction remain on board of our boats long after, during their long cruises around the world.
YOU MAY LIKE
THESE ARTICLES
link to article
UPTIGHT: DESIGNED
FOR OFFSHORE FISHING
Simon MIlovanovic Varvaro - Senior Project Manager