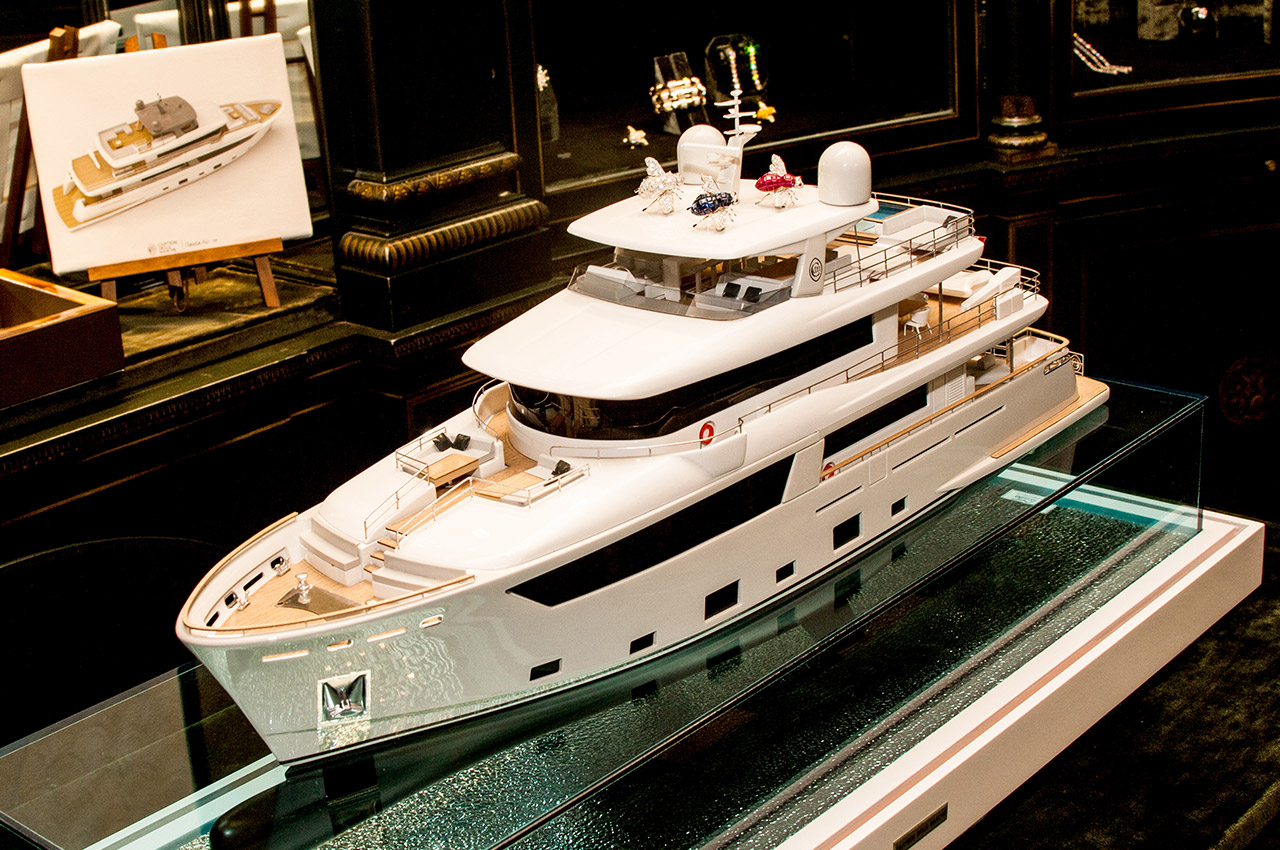 CDM SHINES AT
MONTENAPOLEONE YACHT CLUB
BOUTIQUE SERGIO ROSSI,
MILANO, 28 OTTOBRE 2018
Cantiere delle Marche has attended for the first time Montenapoleone Yacht Club, the exclusive event in Milan organized by Nautica Italiana and MonteNapoleone Association from 16-th to the 22nd of May.

The event links fashion and luxury jewellery with the nautical world, with many selected boutiques playing host to the most important shipyards, as well as famous boating brands. Cdm partnered with Sabbadini, one of the finest examples of the Italian jewellery tradition, a history of passion, creativity and productivity.

The marriage between the two brands proved to be very successful, with many friends among the owners, architects, experts of the nautical sector and journalists community paying visit to the cosy and elegant boutique. Cantiere delle Marche presented a preview of the flagship Nauta Air 108 'M/Y Narvalo, which will be launched in late May in Ancona: the scale model of the vessel, adorned with the famous Sabbadini's bee, was one of the main attraction of the event.

The event kicked off with a cocktail party in which Cantiere delle Marche stood-off thanks to its "CdM Cocktail". Just like each new yacht undergoes the ritual of breaking a bottle of champagne at its launch, Cantiere delle Marche as well has decided to "launch" this first participation with a new cocktail signed by CdM.

The "CdM Cocktail" is inspired by the flavours of the sea and designed by the bartender Carlo Tacconi, director of the historical Pasticceria Taveggia in Milan. It is made from gin mare, with dry martini and infusion of Kombu seaweed in sea water. A tribute of the Ancona shipyard to the city of Milan, home of the "aperitivo". In fact, this drink ties the world of sailing to the city promoter of trends and fashions around the world throughout the year. The CdM cocktail can thus become the protagonist of the Aperitivo Milanese ritual and reduce the distance between the capital of Lombardy and the sea, at least in the scents and flavours.

Numerous toasts delighted the beautiful evening and guests continued to visit the Sabbadini's premises throughout the duration of the event. The week-long Montenapoleone Yacht Club proved to be a charming and valuable moment to meet the industry at its best and CdM can't wait to show it off next year with a new, breakthrough vessel.
YOU MAY LIKE
THESE ARTICLES
link to article
UPTIGHT: DESIGNED
FOR OFFSHORE FISHING
Simon MIlovanovic Varvaro - Senior Project Manager