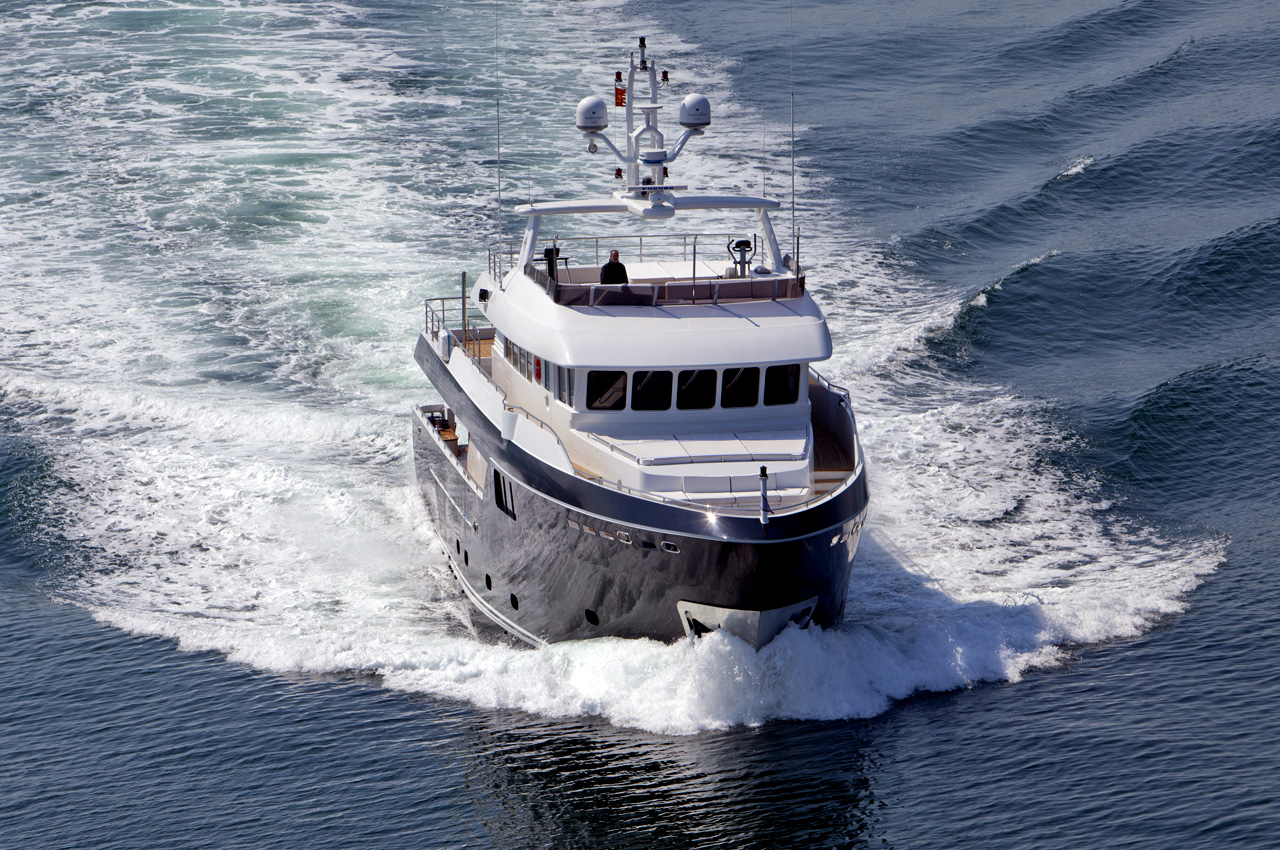 DARWIN CLASS 96'
M/Y STELLA DI MARE
Owner - M/Y Stella di Mare
CANTIERE DELLE MARCHE,
ANCONA, 06 OCTOBER 2013
Stella di Mare, is one of the most expected novelty of the Cannes Boat Show, was launched last march, after almost two years from the beginning of the construction: how do you feel watching her laying on the dock among the best yachts in the world, showing to passionates from all over the world the result of the incredible team work between you and Cantiere delle Marche? I feel a very particular sensation, since the result we have achieved is exactly what we were imagining, before starting the construction and during the construction at the shipyard. We felt since tha launch like she has always been ours, but mostly, in respect to the other boats we have had before, this one has given us the strongest emotions ever. This is especially because we consider her as our first real superyacht, a dream which has become true. It is hard to explain, but we have to say that we have really achieved all of our targets, under every aspect.
Since the boat has been delivered, you have never stopped cruising: where have you been and which location or event has surprised you the most? The vessel has been cruising from the beginning of May, starting from Ancona, passing through Greece, Sicily, Amalfi Coast, Sardinia, Corsica and French Riviera: Stella di Mare has been giving us an amazing and unforgettable mix of feelings. I'm speaking about situation, places, atmosphere linked to family and friends, memories carved in our minds now and forever. It is hard to say if it was more thrilling to face a 7 knots sea in Greece or seeing the Stromboli volcano erupting at night, or sailing all night long and arriving in time for the sunrise in front of Sardinia. In conclusion, it will definitively be a great memory that I'm sure, me, my wife and our 4 children will remember, even in 30 years from now!
After almost 5 months cruising, which are your impression about the Darwin 96? Excellent: considering a market, like the yachting one, in which is an habit to accept that during the first year you will have several technical problems to solve, we have bought and used a trouble-free and very reliable yacht. I can affirm that, from this point of view, CDM represents the true excellence, and not only Italian, but inside the whole sector!
If – after your first season onboard – you should build again a new Darwin 96, what would you change in respect to what we can see on Stella di Mare? I wouldn't change anything, except for the Ice Class certification: with a boat like this, the desire of travelling and exploring increases every day and in this moment the wish of cruising among the high latitudes ices is becaming stronger for me and my family.
And now the trickiest question: how will be your next boat? And in particular, will it be a CDM Darwin again? Obviously! We hope to evolve Stella di Mare into a 110/115' Explorer vessel soon, with the appropriate certifications for sailing among the north ice and with a crew area equipped with a dedicated galley. As a family, we love cooking and in this case, privacy would be necessary.
YOU MAY LIKE
THESE ARTICLES
link to article
UPTIGHT: DESIGNED
FOR OFFSHORE FISHING
Simon MIlovanovic Varvaro - Senior Project Manager