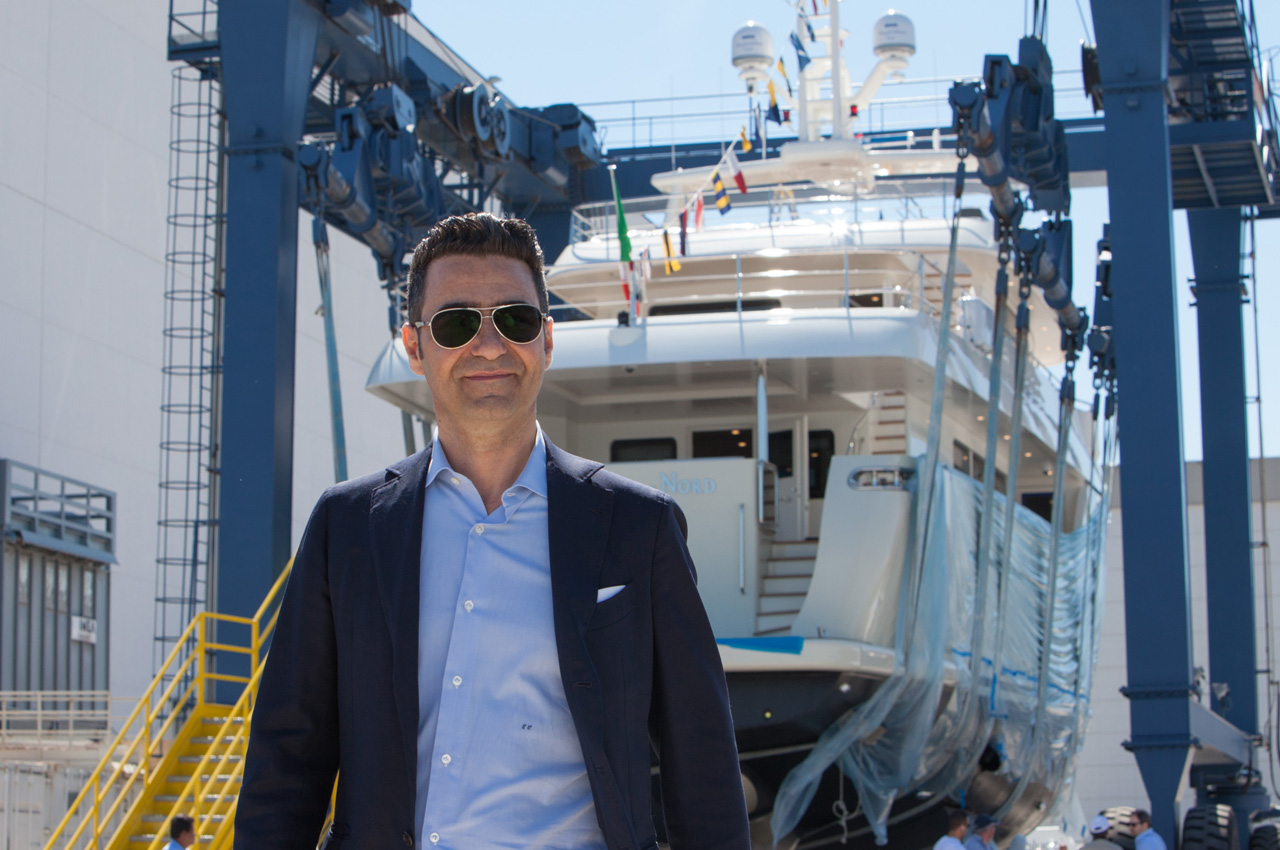 DON'T WANT TO BECOME BIGGER AND BIGGER, BUT BETTER AND BETTER
Ennio Cecchini - CEO
Ennio, it is only 5 years since you started up CdM with a Darwin 86 which has soon become a milestone for the industry in your segment of market. Tell us about your feelings now that you have christened the 4th darwin 86 after M/Y Vitadimare 3, Percheron and Granil. It is very difficult for me to explain this. Every launch is different and so emotional for all of us. The night before this launch I had two very clear thoughts in mind and I will try to express them with the simplest words, now. The first thought was about this incredible journey from a big shipyard with empty sheds to a shipyard which is almost to small to fit all the yachts ordered in the last months. We had a clear vision since the beginning, but I have to admit that this is one of those cases where reality overcomes your dreams! Immediately after having thought about our success, the faces of all my staff come to my mind. We are a small yard and I know each and every worker, their families and their stories. It makes me feel so proud and privileged to have such a team backing me up every single day!
CdM has always been characterized by its "boutique approach' to shipbuilding and customer care. Is this going to remain your philosophy even with such a backlog of orders? Absolutely yes! The best confirmation of this is the fact that, in spite of the orders, we keep on deliverying max 3 boats per year. As our President Gabriele always says: "we don't want to become bigger and bigger, but better and better!
Explorer Yachts are becoming more and more popular on the market. You have all the advantages of having been among the real first mover in the segment: we are sure this gives you a good peace of mind and you can focus only on production not having to think about the product itself. Unfortunately not. Here at CdM we don't know what means standing still! After the Darwin Class, we introduced the Nauta Air range to the market as the first Explorer Line of Yachts with unconventionally elegant and sleek exterior lines (mantaining the Explorer heavy duty soul). We are now already working on the future, also keeping in mind that in the next weeks we could complete the 2017 order book and the next deliveries will be in 2018! Once again, I am sure that CdM will demonstrate that the most important tool to gain shares of the yachting market is the ability to listen to yacht owners, captains and surveyors very carefully and without stopping. Year after year we notice that also in a quite conservative niche like the Explorer one, owners needs change. And our mission is to answer to those needs, always.
You come from the metal carpentry industry, passing through a very important commercial shipbuilding experience: what you are missing from your past and what you really like of your present at CdM? It is very difficult to answer. With CdM I think we have created the best merge of the two world possible. We have the pragmatic approach of the commercial shipbuilding industry and the attention to even the most invisible detail as in the best superyachting industry. This, I think, is in fact the secret of our success. Our clients recognize all the best of the heavy industry and all the dedication to his needs of the luxury world. Both worlds are part of his daily life, and both worlds speak a language he know very well.
Stella del Nord is a boat you are quite linked to, is it true? Definitely yes! I have immediately built a very strong relationship with the owner, who has a very technical and industrial background. I have followed every project management meeting with him, and we have shared many and many thoughts which have brought to technical solutions which are now part of CdM's standards. I really enjoyed it big time and I thank the owner of this special Darwin 86 a lot for this.
YOU MAY LIKE
THESE ARTICLES