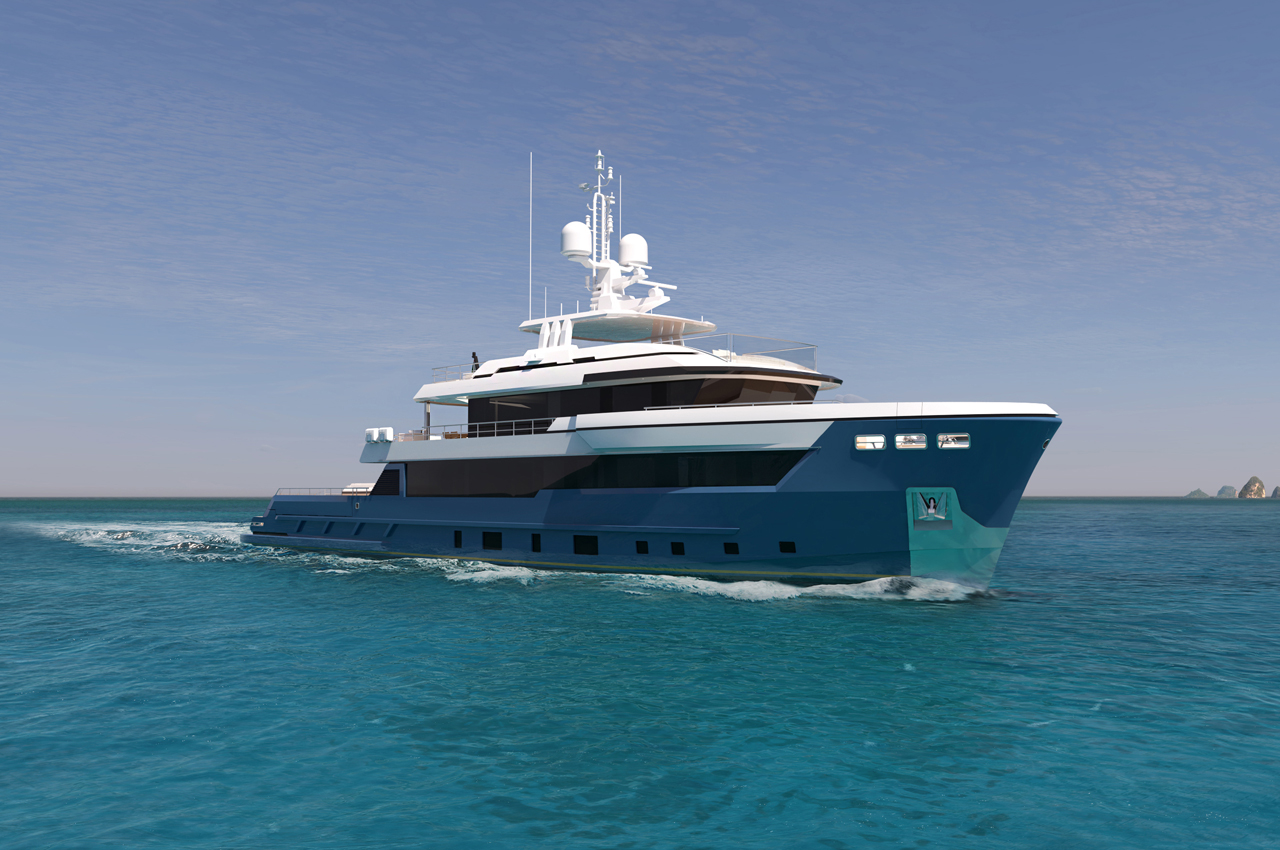 Second in the Flexplorer 146 'pipeline', the Flexplorer 146-35 has been optimized to deliver the largest volume while still remaining under the 500GT threshold. The yacht features a low-resistance underbody with bulbous bow that adds comfort in rough seas and efficiency during long passages. Elegant and understated interiorsimagined by Nauta Design match to the austere exterior lines which are the Flexplorer line's trademark.
Delightfully decorated social and private areas for the Owner and his guest gracefully span three decks plus a Sun deck equipped by an array of amenities, including a panoramic swimming pool.
The yacht accommodates eight guests (+2) in four suites on the Lower deck while the Owner has his private apartment on the Main deck forward.
The Owner's request was to avoid using an A-frame crane for tender handling. Instead, a concealed, powerful jib crane has been ingeniously incorporated into the Upper deck overhang. Remarkably, when not in use, the crane seamlessly vanishes into the superstructure. This crane is specifically designed and engineered to effortlessly launch and haul a sizable tender and water-toys, which are conveniently stored on the expansive main deck stern area.
Once the tender is in the water, the area turns into an immense social space with sun beds, sofas and armchairs. Collapsible bulwarks further enlarge the deck space and offer unobstructed view onto the sea.
NAUTA ON THE INTERIOR PROJECT
Her timeless, contemporary interior exudes a sense of quiet confidence. It is sophisticated, yet feels relaxed, it is never over the top or boring. Combining a multi-layered approach, the interior design and decoration by Nauta are scaled perfectly with a combination of understated style and functionality. The designers opted for a natural palette that creates inviting environments flooded with outdoor light. Throughout the yacht there is room to move and breathe, furniture isn't crowded together and surfaces are not cluttered. There is a perfect balance between statement pieces of furniture and the clean simple design. Thoughtful, hidden details emphasize an edited aesthetics.
YOU MAY LIKE
THESE ARTICLES