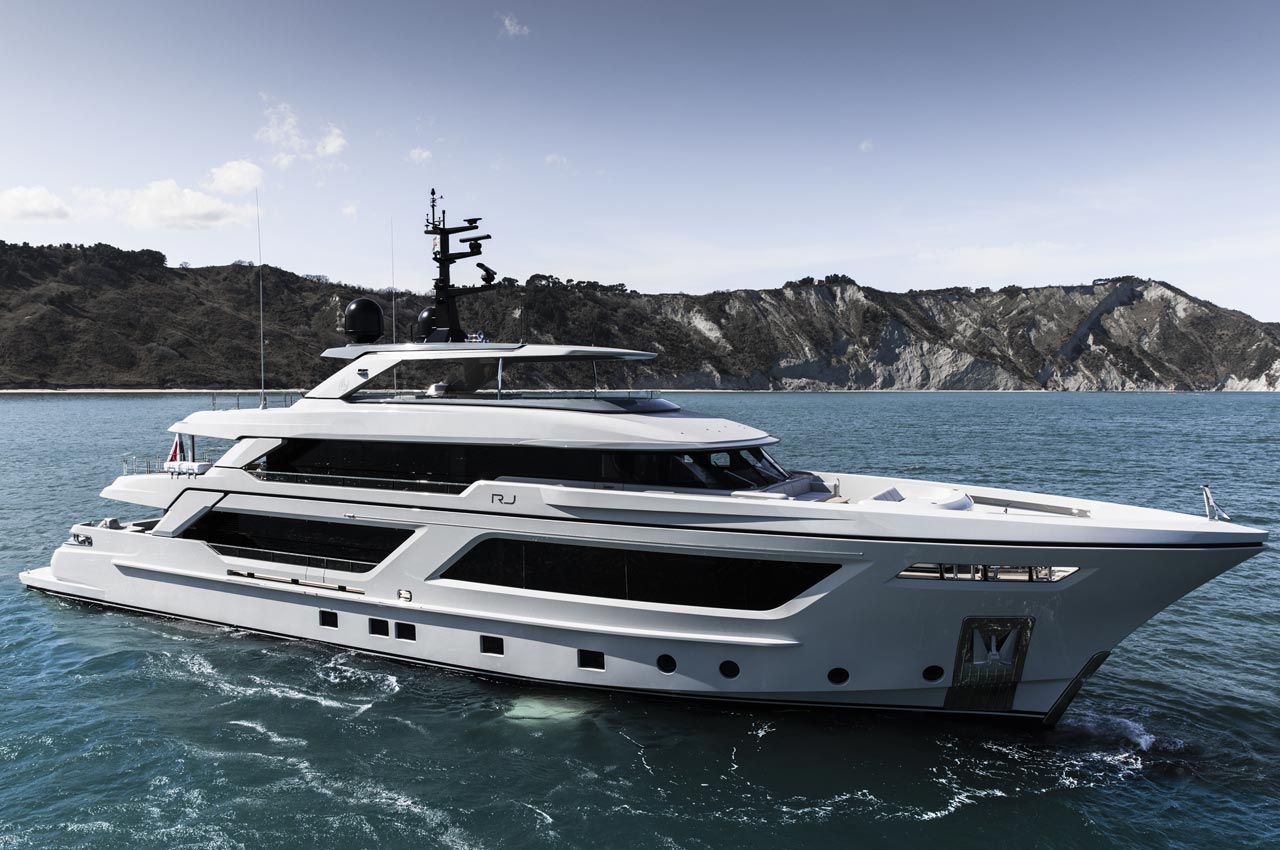 FRANCESCO PASZKOWSKI
ON RJ'S EXTERIOR LINES
Francesco Paszkowski - Designer
PASZKOWSKI DESIGN STUDIO,
ANCONA, 01 SEPTEMBER 2021
"A very good relationship has been established from the very first day with the CdM team. It was an easy start and it kept on going on better and better. It looked like we have been working together since ever. Cantiere delle Marche always made the most to combine the owner's wishes and the design issues with technical aspects," says Florentine designer Francesco Paszkowski.
Did you get very precise indications from the Owner? The brief was for an explorer with large social spaces both inside and outside, offering a close contact to the sea in order to enjoy staying on board during longtime cruising everywhere. We focused on combining the essence of an explorer with peculiar features in terms of comfort and liveability to design the yacht her owner was expecting. The yacht's exterior lines highlight an accurate study of architectural geometry, a clean profile, wide windows on the main deck attempting to overthrow boundaries between exterior and interior, unrivalled panoramic view of outside while enabling lot of natural light inside.
Taking a close look at RJ's exterior lines, the meticulous design of a series of details catch the eye and the paint chosen for both hull and superstructure changes with the light, turning from light to dark grey. It creates an effect of chiaroscuro of great impact. We worked on several fundamental design features: the shape of the superstructure, overhangs and windows on the main deck. Priority was given to the exterior spaces with special emphasis on the idea of contact with the sea we obtained by lowering the gunwales on the main deck and by creating several alfresco areas. On the other side we designed her exterior to the latest detail: the result is a very sophisticated design, indeed.
RJ is meant to be used mostly in warm climate. Which is your favourite spot on board? One of the high points of the exterior spaces is the sun deck, a wide terrace with living, dining, sunbed areas and a swimming pool to allow guests to enjoy most of their cruising time on this deck. The central section of the superstructure is rounded, sloping fore and after, resulting almost invisible from the sun deck. Combined with the transparency along the outer perimeter there is no interruption to the view in all directions and it enhances visual contact with the sea and the surrounding environment.
YOU MAY LIKE
THESE ARTICLES
link to article
UPTIGHT: DESIGNED
FOR OFFSHORE FISHING
Simon MIlovanovic Varvaro - Senior Project Manager