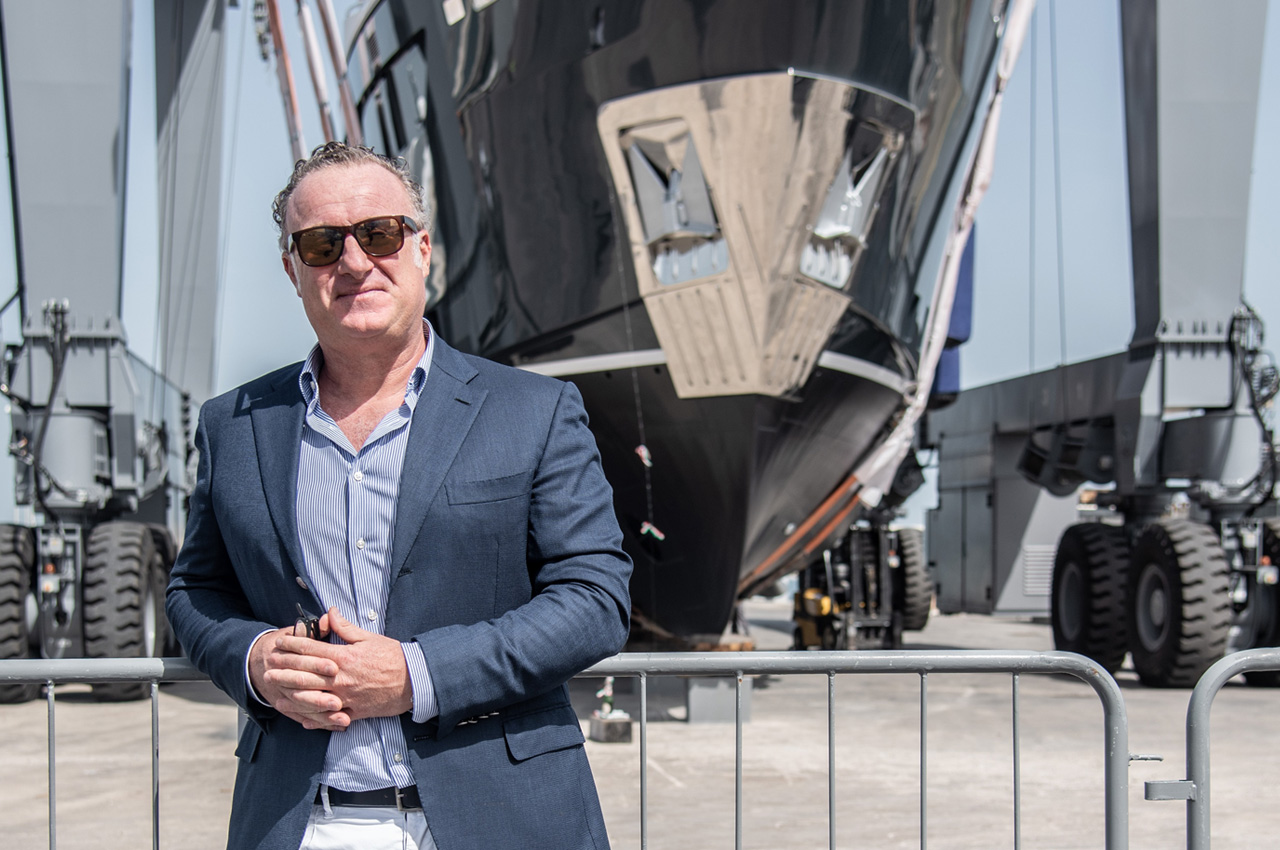 FULL STEAM
AHEAD
Vasco Buonpensiere - Sales and Marketing Director
CANTIERE DELLE MARCHE,
ANCONA, 04 JULY 2019
As I sit down to write this introduction to CdM Experience I look back at these last few months and I can't help but be enthusiast about what happened at the yard, what happened to us all. We have been looking forward, as usual, as we literally and metaphorically build our future. I'll try not to be bombastic, yet it is hard not be.
Since its inception, 2019, has been a great year for CdM. I'll try to make you understand why I am so proud of what we achieved. I'll do it by making a list of what happened at CdM in the first six months of the year and let you draw your own conclusions.
In January we launched our very first custom project, K42 Audace, a surprising 43m/499GRT explorer yacht which actually rocks the standards we are used to. She is a remarkable yacht under many aspects, both stylistic and technical, and represented a big challenge for us. We were ready to step into the custom market and we did it in a spectacular way with a project similar to no other. Concurrently, Mimì la Sardine, Nauta Air 110, won Boat International Design & Innovation Award. No need to say how proud we are of this award that witnesses our commitment in improving constantly our yachts' design quality. In February we announced the creation of CdM's Pre-owned Sales Department. As we have many repeated clients, who amount to almost 25% of the owners of already delivered vessel, we have decided to offer them an extra service tailored to meet their needs: the CdM's Pre-Owned Sales Department which works as an intermediate to find a new Owner who takes over a yacht of CdM Fleet with the same passion and enthusiasm of its first Owner. In a very short time a Nauta 86, a Darwin 86, a Darwin 96 and a Darwin 102 have been sold through the Pre-owned Sales Department to enthusiasts new Owners.
March. On March 14th and 15th we had the pleasure to welcome a large group of journalists arriving from all over the world to visit our facilities, inspecting all yachts under construction, cruising on the K42 Audace. It has been a success, a great success. We have had enthusiast feed backs from all of them for what they saw and experienced at our yard. They met our team, saw how we build our explorer vessels, they witnessed the excellent quality of metal working, welding, piping, insulation, equipment, outfitting, not to mention our proven procedures and the extraordinary commitment of all involved in the construction of every single yacht. Not words, facts. Quality is a much used word that has lost impact in print, I know. But experiencing how we operates, you really understand what we mean by CdM quality. This was the CdM Experience we offered our guests in March, this is the CdM experience we offer our clients always.
The sheer diversity of the 10 (ten!) explorer yachts we are currently building makes clear that the ongoing success of CdM can be attributed – to a large extent – to our flexibility and the Deep Blue 43 we sold in April proves it. This is a project by Horacio Bozzo for a repeated client. CdM has indeed gained his full confidence as he and his family enjoyed the feel of comfort and safety of their Darwin 102 cruising in the Med but also sailing the expanses of the Pacific and Atlantic Ocean and reaching the wild beauty of remote destinations and the best diving spots in the world.
In May started the conquest of the US market by selling a Darwin 106 to a very experienced Owner. We had set out to penetrate that market and this was one of our target for 2019. We did it more quickly than expected. In the same month we sold a second hand Darwin 102, Stella del Nord, to an international star such as Andrea Bocelli, he himself an experienced yacht owner. Always on May, one of our yacht was awarded with the most important award in the yachting industry: Mimì la Sardine won the World Superyacht Awards in her category.
On June 15 th we launched the beautiful Darwin Class 102 Archipelago to her Owners – and ours - great satisfaction.
This is just the diary of six months in our life as a successful shipyard. In the meantime, the construction of many explorer yachts progress on schedule at our facilities. This is the case of the Acciaio 123 Astrum about to be launched as I write these notes, the amazing Flexplorer Aurelia 29, the MG129 by Francesco Pazskowski, the Explorer 40.22 by Spadolini, a Darwin 112 and a Darwin 102. The yachts we sold recently start taking shape with the first steel plates already assembled.
I promised not to be bombastic... but allow me to say that while these achievements are a cause for optimism in their own right, what gives me the most pleasure and confidence in CdM long-term future is that nowadays the ingrained quality and consistency of our explorer yachts is internationally recognized. Experienced Owners recognize that our yard is the perfect place to build a yacht and to live an unrivaled experience while doing it.
The expedition starts here...
Vasco Buonpensiere
YOU MAY LIKE
THESE ARTICLES
link to article
UPTIGHT: DESIGNED
FOR OFFSHORE FISHING
Simon MIlovanovic Varvaro - Senior Project Manager