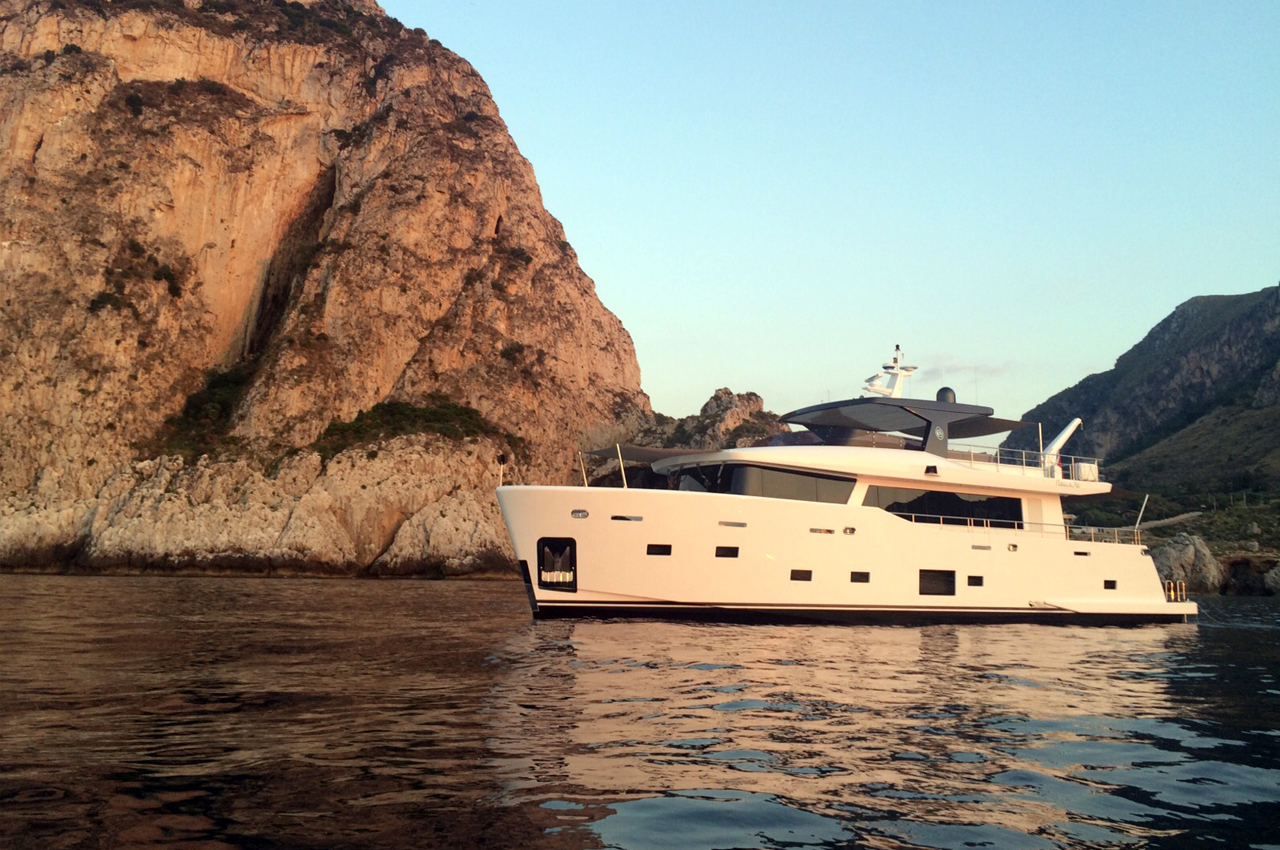 HOLIDAY
FINALLY
Vasco Buonpensiere - Sales and Marketing Director
CANTIERE DELLE MARCHE,
ANCONA, 02 AUGUST 2017
Let's make it clear do not want to fall in the typical Christmas Interview, Vasco. Therefore we don't want to ask you a balance of the events happened at CdM in the last 12 months etc etc. But we absolutely want to know what happened after the Cannes Boat Show which basically opens the so called Nautical Year! I am happy to know that this is not going to be a conventional Christmas Interview so I don't have to talk about the three amazing deliveries of this year, the incredible backlog we have built-up during the last 12 months, the awards we have won and the success which has brought us also on the Financial Times pages. I will focus therefore only on the last 3 months, starting from Cannes Boat Show.
For sake of good order let's start from there, then: how was the Cannes Boat Show for CdM? The best we have ever experienced in our careers. Very simply. Our three Yachts have been constantly full of visitors and the level of interest has been the highest ever. I can say that presenting our Darwin 107 has really been a hit, shocking those coming onboard with its volumes, quality, design and – once again – for one of the (if not THE) most amazing engine room at the Show.
We always hear about successful Boat Shows from every shipyard. It is a little bit like Political Parties after elections... they all win, also the losers. As far as CdM is concerned, how do you measure the success of a Boat Show, beside the number of visits? For us, a Boat Show is an investement. Therefore we measure the success of it calculating the ROI. Since our first Cannes Boat Show, we have always sold at least one Yacht after it, which can be considered a good ROI, indeed. This year, after the Show, we have sold 4! You don't need specific consultants to understand that the ROI on this investment is good enough...
Can you let us know which boats you have sold? Two Darwin 102, one Nauta 90, one Nauta 111 on a 7.80 beam platform. It is more than 1000 GRT! In only 3 months we have sold he equivalent of a 60 mt Megayacht.
Talking about bigger Yachts: we can see that your clientele is moving up in size and 90% of the orders of the last 24 months are over 100'. Seen also that you start having repeat clients going bigger in size, are we going to see you soon competing against the 45mt+ shipyards. No, thank you. As we have already said many times: we want to become better and better, not bigger and bigger.
Now, let's get a little conventional here... What are you doing for your Christmas Holidays? Seen that in the last 24 months and 5 Yachts sold there, I have been at least 12 times in Mexico visiting only Mexico City... I will take my first real holiday with my family in five years, and we will travel through the country from Mexico City to the Pacific Coast, spending the last ten days in a very nice and easygoing village north of Punta Mita. It is going to be real quality time with my family, which means that we will also meet some of our great mexican yacht owners: they are definitely part of the family, too!!!!
YOU MAY LIKE
THESE ARTICLES
link to article
UPTIGHT: DESIGNED
FOR OFFSHORE FISHING
Simon MIlovanovic Varvaro - Senior Project Manager