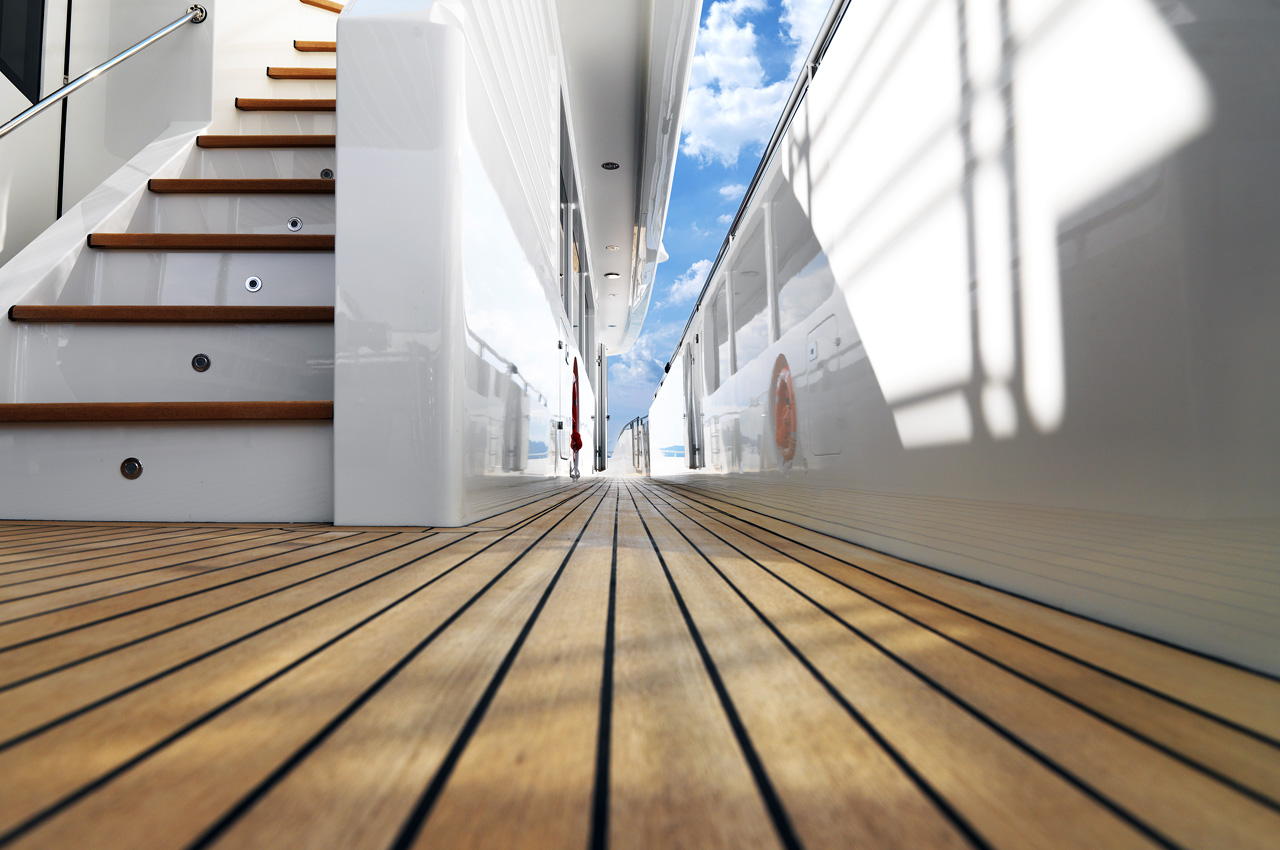 I CAN SAY NOW THAT MY DARWIN HAS MET AND EXCEEDED EVERY EXPECTATION
Owner - M/Y Storm
CANTIERE DELLE MARCHE,
ANCONA, 15 JULY 2015
Darwin 107' is not only the biggest vessel launched at CdM so far: we noticed many details on her which show that - with the Darwin Class 107 - CdM has once again raised the bar and improved their standards. At the yard they all say that your inputs have been fundamental to get to this result: can you tell us how that happened and how was the reaction of the shipyard's team to your requests and suggestions? Having owned a number of Motorboats and having an experienced Captain who has worked for me for many years we knew exactly the type of boat we wanted, its lay out and finish. We put together a very comprehensive specification agreeing it with the shipyard, certainly introducing many challenges for them to achieve. During the build we also requested many new ideas and we found that if the shipyard believed it was an improvement to their product as well as a benefit to the functional and operational running of the boat it was introduced without hesitation.
You have been the owner of a yacht built in a very well reputated shipyard in Holland, which is definitely an area known for their high quality standards when it comes to engineering and shipbuilding: how would you describe your italian experience at CdM in those terms? I believed our previous boat was going to be a hard act to follow. This meant demands and expectations for build quality, engineering and fit out were high right from the start of the contract. I can now say honestly that Darwin 107' has met and exceeded every expectation. Looking at the finished product says it all.
The interiors of Darwin 107' are very much characterized by the use of materials and design choices which definitely match with a Yacht thought for exploring the world at all latitudes with your family. How much your family has been involved in it with you and how the shipyard dealt with it during these almost two years of build? Darwin 107' is a family boat and this includes the Captain and his wife. Everyone has had their part to play during the build. From an engine room orientated to insuring ease of operation, servicing and general systems management, to a galley designed to run for long periods between port visits, to baby friendly features for the grandchildren to plenty of outside living space. We have all been heavily involved along with the shipyard management.
Now that your Yacht is in the water it is time to start cruising: which are your plans and where do you think Darwin 107' will be in the next seasons to come? The plan for this year and 2016 is to really get to know Darwin 107' and her capabilities while cruising the eastern Mediterranean. As we now have a 'go any where' boat our aim is to cross the Atlantic the following year and spend a number of seasons travelling the Eastern American seabord, the Caribbean, with the desire to visit even more far away places. Darwin 107' is designed and built to be at sea, exploring places, not sitting in a Marina!
If you should summarize your memories about this project on a book, from the decision process to the launch, which would be the main milestones/characters/events of the history you would absolutely fix on paper? I could easily write a book covering the experiences of building Darwin 107', however I would rather put this into a short story.
CHAPTER 1 - The Decision The decision process was very easy, I believe that people deal with people who they trust and believe in, CDM were those people.
CHAPTER 2 - Excitement The excitement of planning and creating the detailed specification . Would your ideas and vision turn into a reality. Planning for the regular visits to the yard and the introduction to strong Italian coffee and long lunches
CHAPTER 3 - The build and the people Many interactive meetings with all the different teams with everybody putting forward their ideas and reaching the best solutions. Getting to know the many people doing the hard work, always with smiling faces. Of course more long Italian lunches!
CHAPTER 4 - The Launch Will it ever be ready, will it look as we imagined? On the day to see the families reaction made the whole process worthwhile. Followed by 'an even longer' Italian Lunch!
CHAPTER 5 - Delivery Can such a complex piece of engineering with all its multitude of systems, together with our changes during the build all only be one week late after 18 months. Apologises to the shipyard as I requested the one weeks delay!
FINAL CHAPTER - Memories Too many people to personally thank, long lasting friendships made and lots of pleasure along the way. Sadly no more Italian Lunches!
YOU MAY LIKE
THESE ARTICLES
link to article
UPTIGHT: DESIGNED
FOR OFFSHORE FISHING
Simon MIlovanovic Varvaro - Senior Project Manager