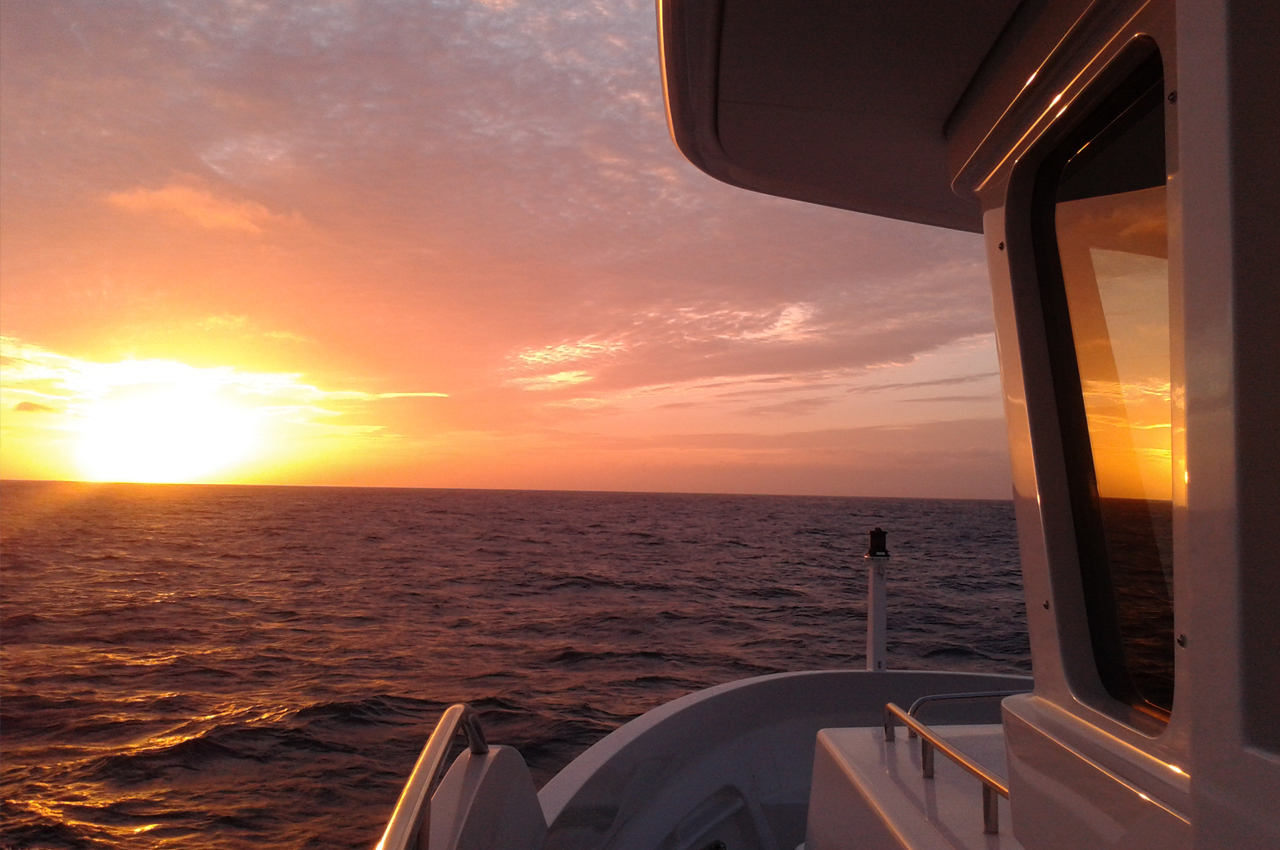 I CAN WHOLEHEARTEDLY
SAY THAT CDM HAS BUILT
US A SUPERB YACHT
Owner - M/Y Percheron
NAPOLEON'S HAT,
CORSICA, 20 AUGUST 2017
wenty-four metres of registered length, about thirty thousand miles and two Atlantic Crossings in three years: this data does not normally go together in our industry. Can you tell us what happened and what was CdM's role in all of that? Entering our fourth year of ownership I can wholeheartedly say that CdM has built us a superb yacht, capable of reliably doing everything we ask of it - and with ample margin in all: space, comfort, noise, safety, ease of operation, and of course fun. The support and service we get from the shipyard is excellent to a level that I dare say is quite unique in the industry.
Having the privilege of owning a mini-vessel like the Darwin 86 and having it travel on a carrier, is a bit like owning a sailboat and never raising its sails. The Darwin truly is a go-anywhere yacht and an Atlantic crossing is well within its capabilities. For this last crossing we did not take the November window but rather waited for a chance at good initial conditions early in the year. Testament to the very high build standard and reliable & well maintained systems, all that was needed on arrival was a thorough wash and clean. In the fuel tanks more than 20,000 litres to spare, or the equivalent to 12 (check) days of fuel left on board at the same power combination.
After all this time cruising on Percheron both in the Med and the Atlantic, tell us a bit about your experience. Which are your favourite anchorages (destinations?) and why? Both have a lot to offer but their attractions are completely different. Both are roughly the same size although the Med is an "inner sea" surrounded by land, cities and millennial cultures that laid the foundations of western civilisation. Every corner of the Med has multiple stories to tell, from dozens of angles, it is awash in history and that is fascinating even for youngsters. Diversity in everything, people, culture, languages, tastes, even winds!
Compared to the Caribbean the cruising season is short. During the 4-week peak it is a challenge to find suitable and uncrowded anchorages, albeit considerably easier with the benefits of the Darwin (ample range, excellent stabilisation, high gross tonnage and enough chain). Not having yet made it to Turkey and Greece we liked Sardegna and Corsica most for anchorages. Menorca and Elba are both very charming.
Only a few hours of cruising from Miami one can opt to explore Cuba, swim the tranquil waters of the Exumas or explore the outer islands - this before even entering the Caribbean. It certainly doesn't offer the cultural breadth and depth that Mediterranean waters offer. But it is natural and naturally beautiful, captivating in and out of the water and is blessed with some of the world's most attractive beaches. It exudes charm and remains - in many places - unspoilt.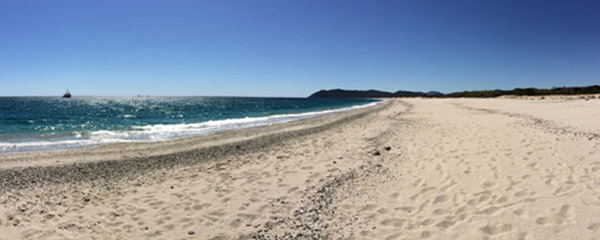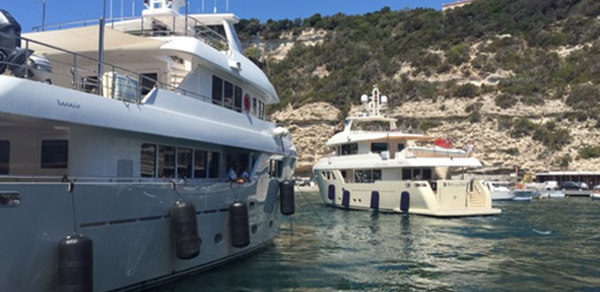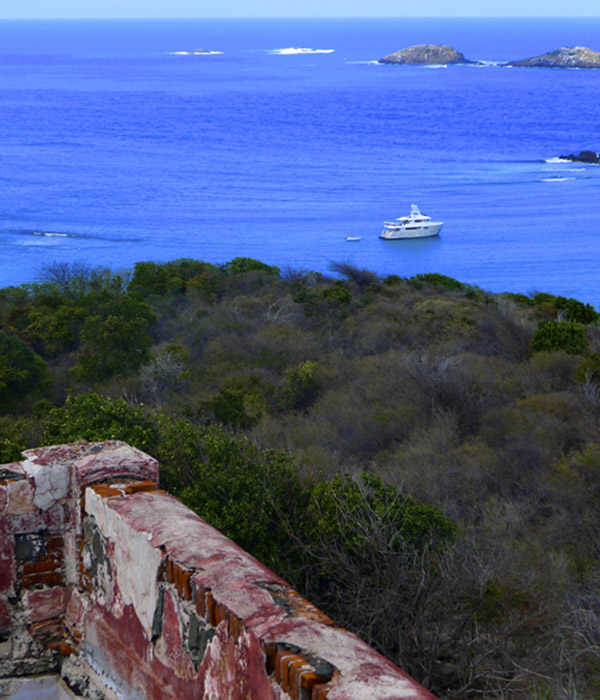 CdM is definitely one of the most succesful and celebrated shipyards worldwide in their market segment: in your opinion what is the reason why they have accomplished such success in a relatively short time-frame? CdM has gone from strength to strength because it delivers an excellent product and provides an excellent service. It is that simple. As long as it keeps doing that the order book will remain strong for a long time.
I also believe that key to the success has been the ability to stay manageable and strongly focused on quality. A highly personalised service, excellent design platforms, experience in building, eye for detail and willingness to adapt to client demands are essential building blocks. What is unique about CdM is that you get all of that in one shipyard.
If you should choose among the many pictures of your holidays on Percheron, which would be the one you consider the more representative of what a vessel like that can give to Yacht passionates like you and your family? These two pictures taken on opposite sides of the Atlantic are classic Darwin in my view. The panoramic shows an empty beach somewhere in south-eastern Sardegna, far from coastal resorts but at the height of the August season. Percheron can just be seen in the background and has not succumbed to a Sirocco that is starting to spruce things up a little.
This picture was taken a couple years ago in Culebrita off the eastern coast of Puerto Rico. We didn't overnight because of the clearly visible reef on both sides of the bay, but we spent a day there exploring the island and found an abandoned lighthouse (built by the Spanish in the late 19th Century). It is from that view-point the picture is taken. To Percheron's starboard is an exceptionally beautiful beach, unseen in the picture. The swell is coming in and on-board the electric stabilizers are completing the job for the already heavy hull.
Bumping into another Darwin a few years ago would have been almost impossible. Last summer three CdM builds coincidentally met in Corsica and Sardegna: the beautifully designed "Noga", Percheron and younger sister "Stella del Nord". The foto below was taken in Bonifacio.
But undoubtedly the most representative pictures are the ones we take at the end, almost always on the platform, everybody in (sometimes 16 with the crew!), name plate barely visible behind big smiling faces. It is the ultimate family holiday. We always want to go back.
YOU MAY LIKE
THESE ARTICLES
link to article
UPTIGHT: DESIGNED
FOR OFFSHORE FISHING
Simon MIlovanovic Varvaro - Senior Project Manager