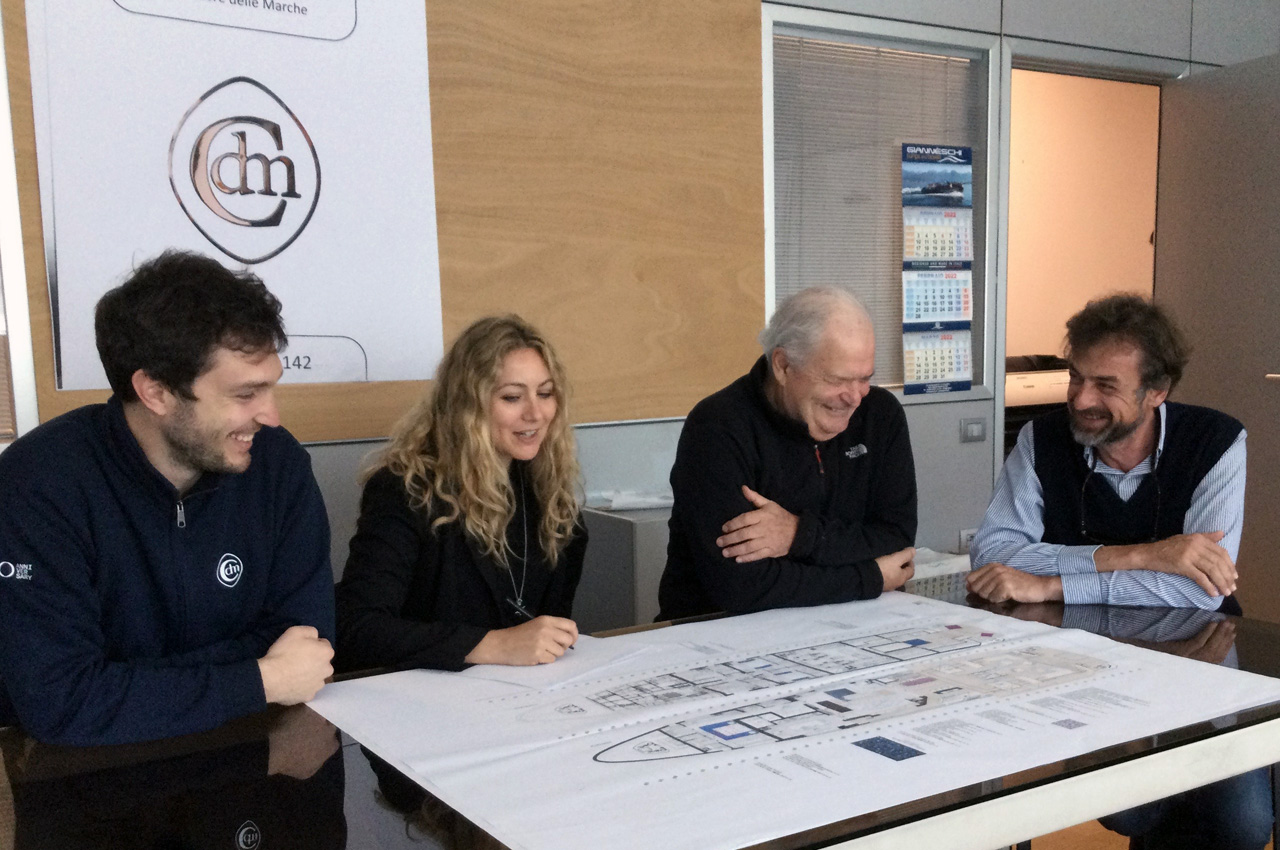 INTERVIEW TO LORENZO RICCI, HEAD OF PROJECT MANAGERS TEAM
Lorenzo Ricci - Head Of Project Management
CANTIERE DELLE MARCHE,
ANCONA, 08 APRIL 2022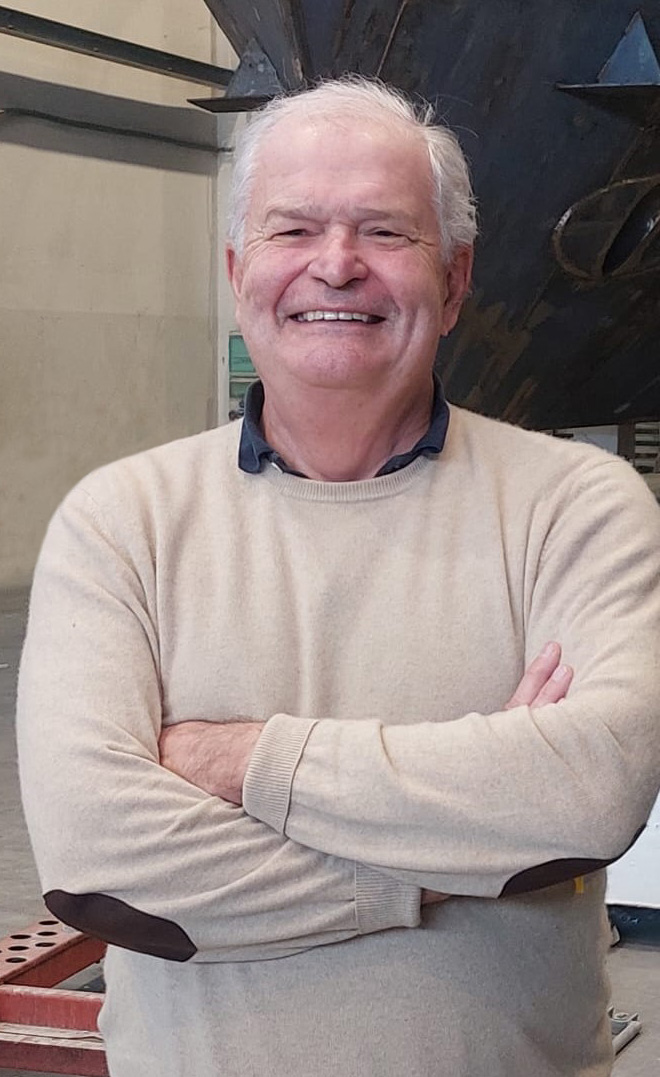 Lorenzo Ricci has a wide experience in the international yacht-building industry and yachting in general coupled to excellent team management skills and will bring a wealth of knowledge to the role he has been appointed for. He has been Captain of large sailing yachts in Italy and the USA and a yacht broker in Florida before becoming Responsible of After Sale Services at Wally Yachts in Monaco, Head of Technical/Commercial Department of ISA Yachts, General Manager of W-Service shipyard in Savona, Owner Representative for the construction of the 62-metre M/Y Maidelle in the Netherlands.
CDM – Lorenzo, you have a profound knowledge of yachting and of the yachting industry. You've been a Captain yourself before entering the yacht building industry. Would you please tell us something about your experience as a sailor.
Lorenzo Ricci – I was born in Ancona where I started sailing since I was a teenager. Over the years, I sailed on dinghies and later on larger boats for cruising and racing: regattas in the Med but also ocean racing.
CDM – Sailing is a unique school of life, isn't it?
Lorenzo Ricci – Being on a boat just for a few hours along the coast, for an around the buoys sailing race or for weeks in the expanses of the oceans offers the possibility to know deeply your fellow sailors and, in addition to that, gives you a different sense and knowledge of self. You understand clearly who is good at taking orders and who has an attitude to give them. Sailing enhances your character, especially qualities of resolve and resourcefulness. It teaches you the ability to stay calm and composed in difficult or dangerous situations. For me sailing was also an extraordinary opportunity to meet extraordinary people, some famous other unknown to the public but no less pivotal to my personal growth. I was skipper on Ted Hood's sailing yacht for three years (Ted Hood, an icon in the yachting world, was a yachtsman, sailmaker and yachts designer, not to mention a helmsman who captained Courageous, the 1974 America's Cup winner. NdR). I sailed far and wide with yacht designers such as Martin Francis and Jon Bannenberg, I crossed the Atlantic ocean with Dick Bertram. I cherish most of those experiences for a lifetime.
Sailing taught me how to deal with people too and this helped me throughout the years even when I was not a sailor any longer.
CDM – You have been appointed Head of the Project Managers team of CDM… is this your new crew?
Lorenzo Ricci – I am very happy to lead a young team of very skilled technicians. I hope to help each team member unleash his/her own creative forces. I believe that competence without understanding and involvement is not enough to get the best possible result. Each member of the team has to give a personal contribution and increase his/her problem-solving skills in managing the construction of our highly customized explorer yachts. I will promote a culture of openness and accountability. I think that a good team leader must foster creativity and move his team's attitude into problem-solving mode rather than waiting-for-instructions mode. My aim is to make everybody switch from a reactive to a proactive attitude, for the benefit of CDM and each member of CDM's teams. I've always had a great respect for those who work and for their work. I think that at the base of a company's healthy growth there is the attention in enhancing and encouraging human resources within itself. I have to say that at CDM I found an approach that is very close to mine and that relationships within the company are based on mutual respect.
CDM – You are a sailor but throughout your career in the yachting industry you've dealt mostly with large motor yachts. How do you get on with it?
Lorenzo Ricci – I appreciate the creativity and the work of those who design and build yachts, even motor yachts. Having said that, I still have a thing for sailing yachts and sail races. Despite I'm old school, I'm fond of innovation and look with great respect and curiosity to all innovative features introduced in competitions such as the America's Cup.
CDM – CDM's approach to yacht building matches with this attitude of yours...
Lorenzo Ricci – Very much indeed! This is one of the reasons why I accepted to become part of CDM's team. CDM builds solid, reliable and good looking explorer yachts designed with ingenuity and built to allow their owners to enjoy safe journeys and explorations to the furthest corners of the globe.
CDM – You are an explorer yourself. In the last few years you have extensively traveled Far and Middle East countries, India, Himalaya, Africa for anthropological, ethnographic and archeological researches.
Lorenzo Ricci – Exploration means a lot to me. I've traveled the world but I've never been a tourist. The spirit of the explorer yachts built by CDM is exactly the same. Our yachts are meant for extended cruising and comfortable expedition living, they are like family homes possible lived in for months at a time. They represent the fulfillment of our Owner's dreams and aspirations.
CDM – How long have you known CDM?
Lorenzo Ricci – Since its inception in 2010 I followed with interest this niche shipyard which showed a farsighted and proactive attitude when most shipyards all over the world were scared to death by the crisis. There is a link between CDM and me that dates back tens of years. The link is Stefano Carletti who was one of my early mentors in sailing. Carletti inspired the construction of the first Naumachos built by Cantieri Navali di Pesaro, the yard owned by the Cecchini family who later founded Cantiere delle Marche. The Naumachos model evolved into CDM's successful Darwin Class. The team that turned Carletti's dream into reality was composed by Ennio Cecchini, Vasco Buonpensiere and Sergio Cutolo.
CDM – You are part of a dream team, then…
Lorenzo Ricci – Yes! It is a great satisfaction to be part of an organization dedicated to making dreams become reality.
YOU MAY LIKE
THESE ARTICLES
link to article
UPTIGHT: DESIGNED
FOR OFFSHORE FISHING
Simon MIlovanovic Varvaro - Senior Project Manager