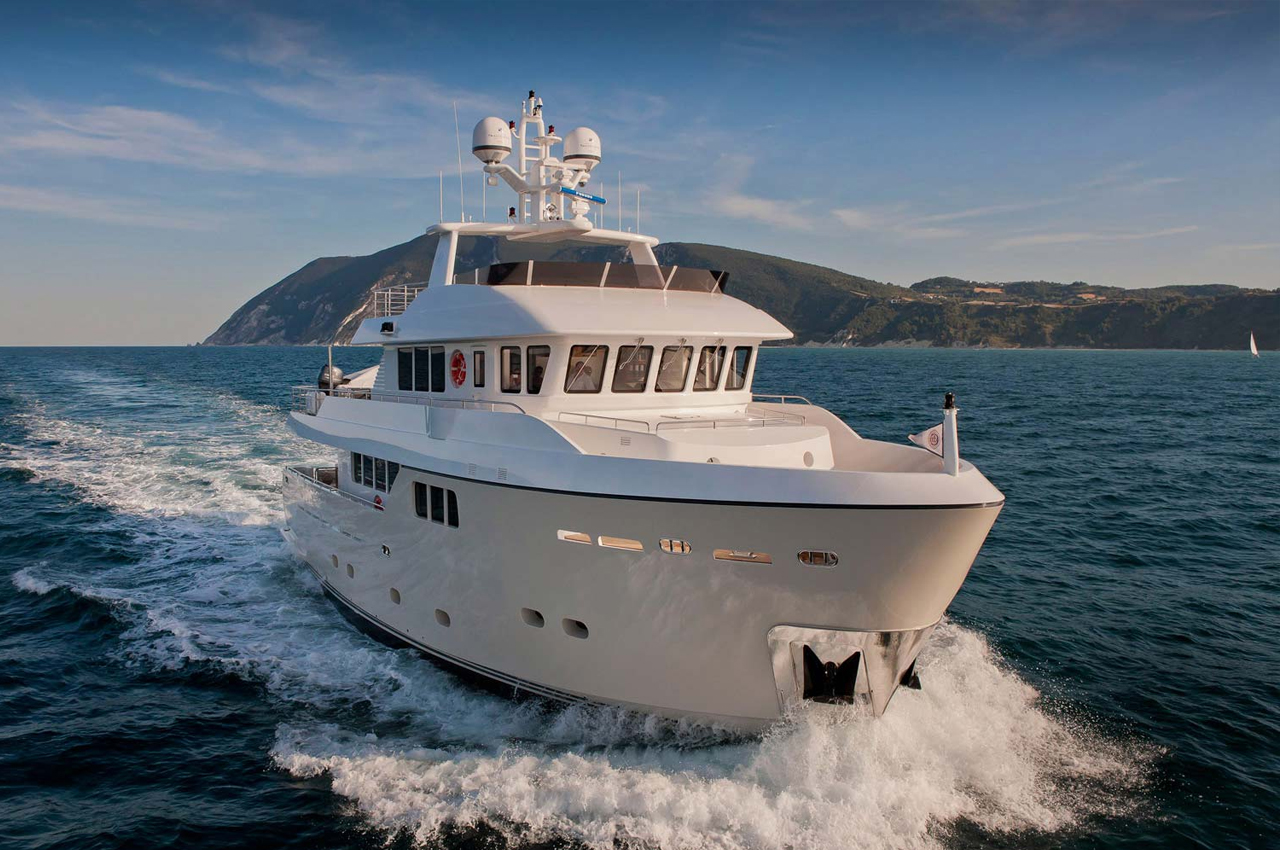 INTERVIEW TO THE PERCHERON OWNER
Owner - M/Y Percheron
CANTIERE DELLE MARCHE,
ANCONA, 02 AUGUST 2012
How did you get in contact with CDM and why was it the shipyard of your choice to build your future yacht? We contacted CdM through Mike Mahan at Worth Avenue Yachts. He spanly suggested them as a new top-end builder with excellent lineage. Although we were deliberately trying to avoid the new boat market since the used market had (has) a lot to offer, Mike convinced me to take the meeting. I sat down with him and Vasco Buonpensiere of CdM almost certain that I was wasting my time. But Vasco made a very span case and the advantages of new versus used became obvious early into the discussion. There is also very little real choice in the explorer range. Plenty of nice looking renders and promises but nothing tangible. Consequently, we had been looking at the used market for well over a year and at that point we were flirting with a 110ft fibreglass yacht with decent range – but it was not an explorer and was 3 years old, and in retrospect would have been completely unsuitable – and by no means cheaper.
We kept looking but everything seemed, too big, too small, too old, too scary. When we decided to consider the new yacht market, CdM became one of 4 builders we had conversations with. The others had yard facilities in the US, Brazil and Asia. Cantiere delle Marche turned out to be the clear winner. For starters it was the only yard with a like steel hull explorer already in the water. We also liked the fact that the yard owners were coming from years of commercial ship building (as well as pleasure yachts). The design was also superior. Sergio Cutolo did a great job in merging function with form. And when it came to specification none of the other yards came even close. Interior and Exterior space also unmatched. We had same interior space than in the 110ft fibreglass we had been looking at, and 25% to 50% more than the other new designs of similar LOA we considered. Vasco was very transparent from the start about what they could and could not do, he is very knowledgeable and has a lot of experience in dealing with fussy and unreasonable owners! Ennio Cecchini, CDMs CEO, is a third generation shipbuilder with most of his experience in large commercial vessels. Mike Mahan is one of the most professional brokers out there. We were in good hands right from the start.
Why did you decide that an Explorer type Yacht would suit your needs and your taste? In the 80-100ft range, motor yachts are generally built for one of two seas: the Caribbean or the Med. That means most yachts have fiberglass hulls and are largely designed for navigating relatively calm waters. After extensive cruising in both seas, including their backwaters, we wanted to explore other corners of the world, particularly the South Pacific, and also colder water destinations. This starts to define the type of yacht we were looking for. We regularly have family and children on board so basics like full displacement, robustness, stability both in cruise and at anchor, and general safety features were given high importance. Also key was ability to cruise very long stretches, serviceability, high capacity and reliable systems. Space, lots of space, both for living and for storage – including storage requirement for two tenders, small sailing vessels, boards of allsorts, diving equipment, and I could go on. Catamarans, which we considered as an option, had this last point as a major drawback. Other points against the cat were high cost of the build, fiberglass or aluminum hull (usually too heavy), plus the drawbacks of the sail. The super efficient and very boring Cat C12's on M/Y Percheron run at roughly 10g per hour at 80% power, and can run for weeks on end.
How did CDM perform during the construction of M/Y Percheron and which are the things that most impressed you? Our surveyor, a very experienced Englishman that has living and working in Via Reggio for years was impressed from the start - I took a lot of comfort in what he had to say throughout the build. He has a sharp eye, and had warned me that the building process is not an inherently easy one and to expect one or two problems, even tension at times. But the yard worked extra hard to find solutions and responded to practically all our observations. That was very impressive. They really went out of their way to make it work. Inevitably there were some change orders from our part, but these were dealt with in a frank and transparent manner. Everyone at CdM takes real pride in building these vessels and Ennio is a perfectionist. Italy has been building top end yachts for decades and the yards there are considered amongst the best in the world. I would go as far as saying nobody in the country has build a pleasure vessel of this spec and quality before. Our Captain moved to Ancona seven months before delivery and got to supervise and accompany the build in situ. Lots yards are willing to provide that type of service but CdMs willingness to train and integrate our young Captain was remarkable. An invaluable service for any owner or captain that seriously intends to tackle the worlds oceans.
The CdM facilities are excellent and visiting the yard during construction was a great experience. Everything in a build of this kind is hand cut and made to shape, piece by piece, welded, nailed, wired, glued and painted – everything is customized. It is the job of real artisans, and CdM has some of the best. We enjoyed our visits not only because we were anxious to see how things were coming along, but also because it was a lot of fun. It may sound like a cliché to say we felt like part of the CdM family, but its true.
After many months you finally arrived at the yard and you could go at sea with your Yacht: can you tell us your impressions and feelings during the seatrial? We named the yacht "Percheron", a French breed of draft horse, originally from the province of La Perche, near Normandy. As a breed it is known for its endurance, toughness and adaptability to different climates and conditions. I believe the Darwin is all of that. Marco, CdM's captain, summed it up perfectly when we went out for the first time: its not really a yacht, its a vessel! That's almost an understatement.
The sea trial went smoothly although the stabilizers weren't yet functioning 100%. It says a lot that if nobody had told us we would not have noticed, and that on a day with very high winds and choppy seas.
Now that you are a proud owner of a Darwin Class vessel, you are starting to use her intensively with your family: can you tell us something about your voyage plans? Within three months of delivery, M/Y Percheron will have participated in two boat shows, one on each side of the Atlantic. The Atlantic crossing will be a first for our Captain and for a Darwin class. Percheron will be showing at the main US boat shows. Next year we will be heading south from the US to navigate the Brazilian coast line and then onto the cold waters of the South Atlantic, round Cape Horn to the Chilean fjords and then north to Galapagos. We will basically shadow the voyage of the Beagle. From there we will head into the South Pacific.
The great thing about the Darwin is that it can go anywhere. As the world becomes smaller and its seas increasingly more crowded, it's great to be able to safely consider destinations that are still unexplored.
How did you get in contact with Cantiere delle Marche and when? Our family has been owner of yachts for ten years and we have spent so much time trying to solve the inconvenients caused by fiberglass boats, that we deeply got tired of it. For this reason we started an internet research about the Explorer models and finally we found Cantiere delle Marche. We sent a request of information via mail to the shipyard and Mr.Buonpensiere, the Commercial Director, in his answer kindly invited us to visit them in Cannes during the 2011 Boat Show. We decided to go to take that opportunity to meet them.
What was the first approach with the people from the yard and - if any - what was the difference you noticed from the rest of the industry you have been meeting before? Exaclty during our first meeting in Cannes, we have been so surprised of the quality of Darwin 86 and in particular of the professionalism and attention that CDM staff reserved us, that have been maintained during all our further meetings.
Is it true that you have been visiting their stand and their boat in Cannes every day for five days in a row with Yes, we have been there, at their stand for 5 days. We have really appreciated both their product and their dedication to us, elements that we noticed every day when we have been visiting again the yacht. Our desire was to spend more time possible inside Darwin 86, of which we were so fascinated, to analyse each detail and, with pleasure, we felt the full attention and care of Mr Buonpensiere and the Cecchini's family.
Can you tell us which are the main characteristics of CDM Yachts which have attracted you and why? The difference between our actual yacht is abysmal, in relation to technical and design aspects. For that we have been impressed from Darwin 86, realized to solve all the problems that normally comes out with our yacht, in particular regarding safety, spaces, dimensions and oil/water capacity. In fact, with a CDM yacht it would we possible to navigate for long journeys without the need of refueling stops ruining our holidays. Hnestly,it seems that during the design and production processes they have already taken into account all the possible problems and they have also found a solution for each of them. I want also to stress the extreme efficiency of the staff. Those characteristics are fundamental for long distance trips, especially for a 250 tons yacht. After our first meeting, we also visited CdM shipyard in Ancona, there the surprise was bigger! The shipyard and the work quality showed their greatness! We have visited other shipyards before, but CDM is definitely better in all aspects. We have been truly satisfied of our visit.
Once you shortlisted CDM as one of the shipyards of your choice, how did the CDM sales team managed the process and how they helped you in deciding that they would have been the builders of your next boat? CDM staff has treated us as friends from the first day, and we started to consider them as family. A special link began and in that moment we decided, as family, that Cantiere delle Marche would have been the new builder for our yacht.
Which is the boat you are now discussing with the yard and why? To date, we are discussing the purchase of the new project Nauta Air 88 or 96, because we are really attracted by its modern design, while maintaining the strong characteristics of the Darwin Class
In one year (as you are celebrating the 1st anniversary of your relationship with the shipyard at the Festival de la Plaisance in Cannes), many meetings and many things have surely happened: tell us one which you remember as a special or important moment which has sealed your link with CDM? During this year that we have spent in this relationship, there is more than a single moment that we remember with extreme pleasure. We have involved all the components of our family in this project and what I really want to do is to thank the whole staff of CDM for the impeccable treatment and also for the work that they are carrying out, which is very brilliant and hard to find in the yacht sector. They are doing extraordinary things!
Give us four adjectives to describe your experience with CDM up to today and one adjective to describe specifically their commercial approach with potential clients like you are. I can resume what has let us chose CDM in five words: QUALITY, ATTENTION, SERVICE, TRUST AND PRICE ( each euro of the price worth the given service).
YOU MAY LIKE
THESE ARTICLES
link to article
UPTIGHT: DESIGNED
FOR OFFSHORE FISHING
Simon MIlovanovic Varvaro - Senior Project Manager