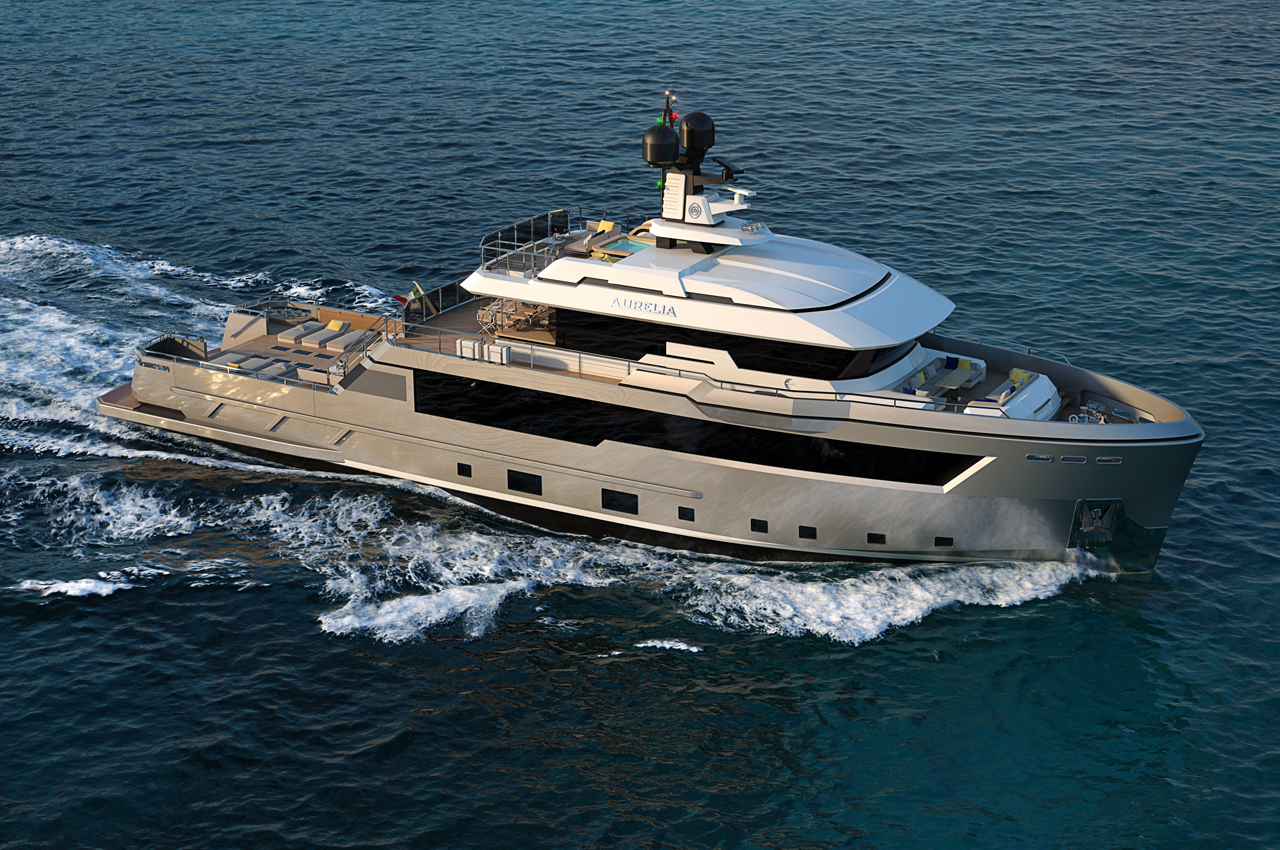 INTERVIEW
WITH THE OWNER
OF THE FIRST
FLEXPLORER
Owner - First Flexplorer
CANTIERE DELLE MARCHE,
ANCONA, 10 APRIL 2020
You have been already the owner of one amazing vessel built by CdM, the Darwin Class 102 M/Y Galego: why you decided to move to a bigger and substantially different vessel like the Flexplorer? I have spent about 4 months per season on board Galego and I have to say that she is probably the best vessel someone can have in the 100 feet range. There is no doubt about it: the lay out, the volume, the immense lazarette to store your toys, the incredible seaworthiness and the reliability of both build and equipments are definitely unbeatable in today's market. As a yacht owner, though, you make more experience, mile after mile, and you understand better your real needs, the difference between what happens on the drawings and what in your real life, and you decide to build the next one closer to your needs. There is also another important driver of the decision of moving to another yacht with CdM. The very special experience which you live during the build time. CdM is like a big family which always makes you feel part of it. There is never a moment when you feel like being just a 'customer'. Never. You always feel like a partner with special privileges (among which the attention to have always the most amazing and fresh scampi at your favourite restaurant for dinner…)
Which were the new, or more defined needs which made you choose the Flexplorer instead of another vessel from CdM's range? The most important was the tender's dimension. I wanted at least a 7.5metre jet tender or ski boat in my new yacht, yet I didn't want to build a boat longer than 40m. I didn't want too much healing when launching that big tender too. And I didn't want to compromise the interiors volume because of the tender... This sum of requests brought automatically to the Flexplorer which, thanks to the amazing carbon fibre A-frame crane allows me to carry an 8.5m tender, launching it from the stern and therefore completely eliminating any heel (which could have been big in case of a lateral launch). I am 2m tall so I wanted a minimum height of 2.20: in certain areas of the Flexplorer I have more than that!
You are known to be an expert of antique and vintage furniture and design and someone who doesn't like his boat to look like a top design brands' show room. How did this reflect into the interior design of your boat? I must admit that this has been the most challenging part of the project. I am quite peculiar when it comes to interior design. I like objects and furniture which bring with them that beautiful patina which shows a past history and life of the objects. I actually do not like houses and boats furnished with what is normally showed on design magazines everywhere in the world: it is like fashion, it is market driven and it doesn't say much about the owner. The cooperation with Francesco Paszkowski and Margherita Casprini has been fundamental to reach a stunning result, which I think it is going to be a first in yacht's interior design.
Can you tell us more about this? I can only say that there is a staircase which I am sure will make many people wanting the same, both for its design and for its contents…
You are one of the many repeat clients at CdM. How CdM succeeds in creating such strong bonds with clients, in your opinion? First of all I think that the dimension of the shipyard makes the difference: you get to know every single man of the organization, you can pick up your phone and call anyone who is working on your boat, and their flexibility in accommodating your needs is beyond any expectation. It is a very lean company with fast decision processes. It is basically family owned and that keeps CdM staying a shipyard instead of becoming a factory. As Vasco always says, this has a lot to do with the final result and the reliability of your vessel.
YOU MAY LIKE
THESE ARTICLES
link to article
UPTIGHT: DESIGNED
FOR OFFSHORE FISHING
Simon MIlovanovic Varvaro - Senior Project Manager