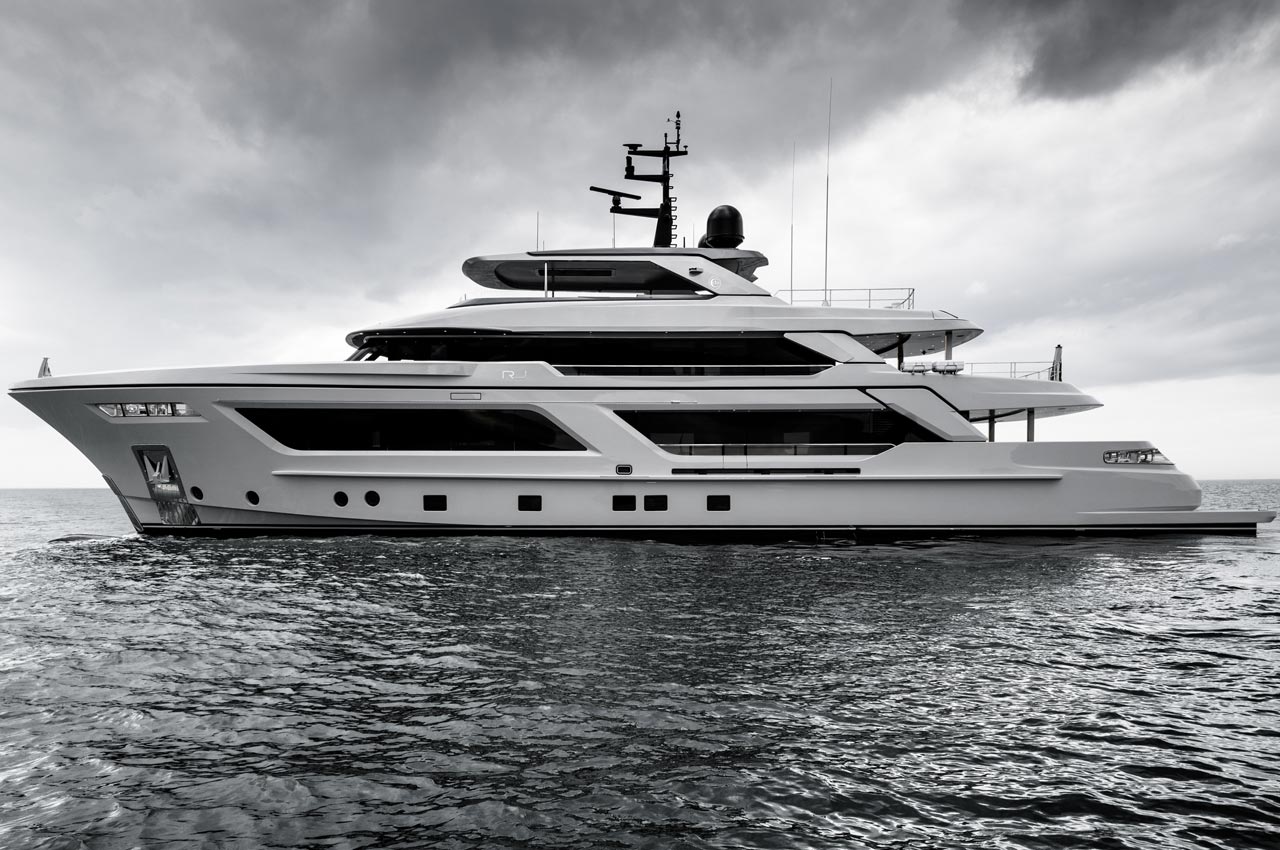 RJ HAS SETS SAIL FOR HER
FIRST HOLIDAY SEASON
IN THE MEDITERRANEAN SEA
CANTIERE DELLE MARCHE,
ANCONA, 02 SEPTEMBER 2021
RJ is a 40-metre steel and aluminium explorer yacht, featuring exterior and interior design by Francesco Paszkowski and naval architecture by Hydro Tec.
She is the first model of the RJ range (formerly known as MG range) of which other three yachts have been already sold and are currently under construction at the CdM's facility in Ancona. RJ is the latest addition in a small fleet of yachts belonging to the same experienced owner who had precise ideas about how his new yacht should look. She is one of many yachts sold by CdM to North European owners. On this occasion the buyer has been represented by the Camper & Nicholsons New Build Division in conjunction with broker Richard Higgins.
"The RJ line is basically the heir to the successful Nauta Air series aimed at owners who want something less rugged looking than our Darwin or Flexplorer yachts," says CdM Sales & Marketing Director Vasco Buonpensiere. "It's a game changer for us and brings in clients who like the idea of a real explorer but prefer the superyacht aesthetics."
"It was a great pleasure to work with an owner who was keen to bring his experience to CdM," maintains Vasco. "Chosing CdM he offered a serious statement of trust in our yard's reliability and construction quality. I'd like to add that it's inspiring and a reason of pride to see that a growing number of experienced and motivated owners prefer CdM to build their yachts," Buonpensiere maintains. "Our clients have fantastic ideas for cruising, diving, luxury toys and serious boating. They are planning adventures, getting involved in underwater exploration, marine life observation, etc. As a shipbuilder, it's exciting to be a part of making their ideas a reality, with this range merging even better the world of white yachts with that of real explorer vessels."
RJ is a luxury explorer yacht featuring a great wealth of exterior spaces with a real go-anywhere, do-anything expedition pedigree. Her elegantly austere silhouette brings the unmistakable signature of Francesco Paszkowski who, alongside her noteworthy geometry, introduced countless well-conceived features in terms of logistics, livability and functionality. With this yacht Paszkowski succeeded in treading a line between innovative lines and timelessness.
RJ can host up to twelve guests. Owner stateroom is on the Main deck forward and there are four ensuite guest cabins on the Lower deck (the two twin single cabins also have pullman beds).
RJ does not have a tender garage. A 5.2-metre Rupert RIB (a model used by the Swedish military), housed on the upper aft deck, is launched and hauled with a crane integrated into the overhang of the sundeck. Once the tender is deployed the deck's vast flooring is available for lounging, dining or sunbathing. As many studies emphasize that tenders are kept in the water for around 93% of time when the owner is aboard, the stern garage has been dedicated to technical areas and to store an array of water toys, diving gear, bicycles and much more besides. The yacht also tows a Wally Power 47.
RJ features twin heavy duty MTU engines 10V2000M72, delivering 900kW each at 2250rpm, allowing a top speed of 14.5 knots. At the economic speed of 9 knots, she will have a remarkable range of around 5500nm with about 10% fuel left upon arrival.
YOU MAY LIKE
THESE ARTICLES
link to article
UPTIGHT: DESIGNED
FOR OFFSHORE FISHING
Simon MIlovanovic Varvaro - Senior Project Manager