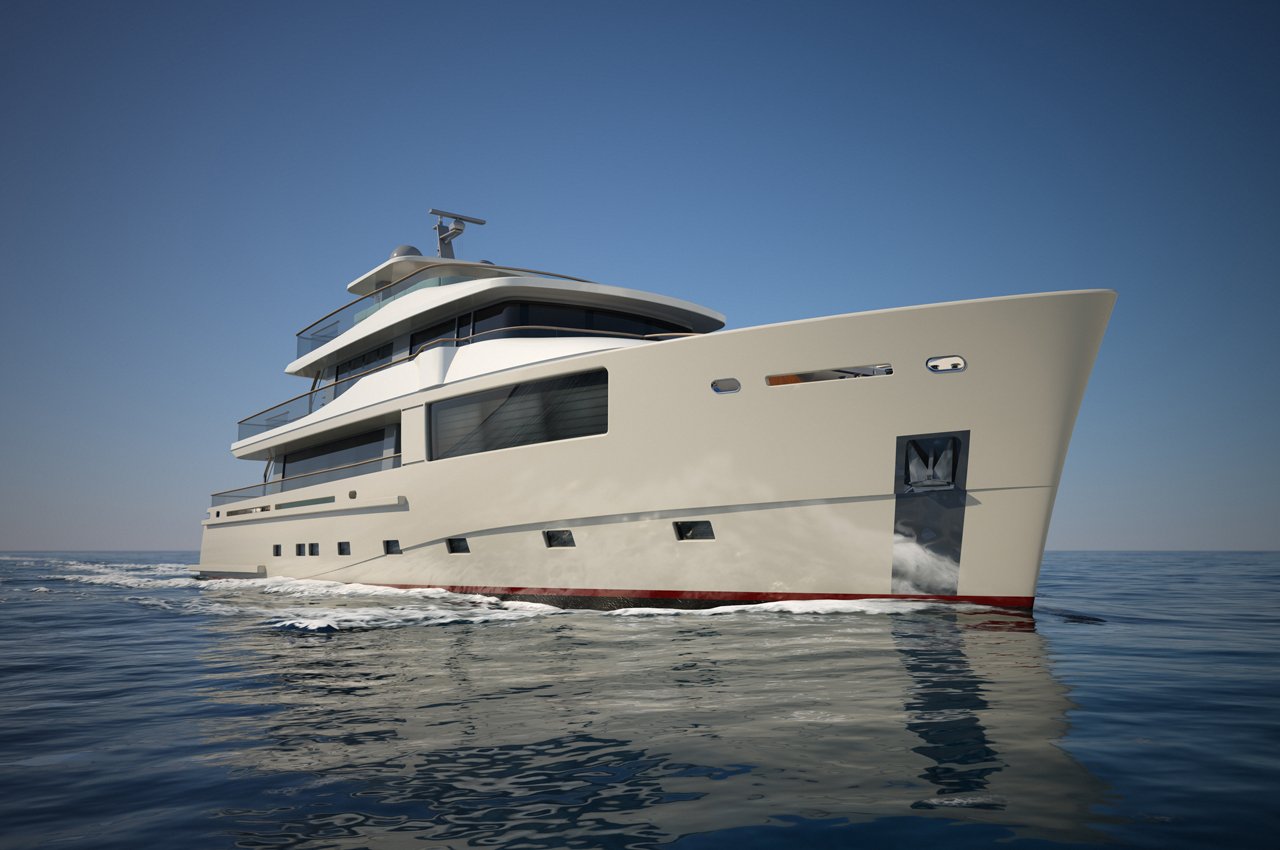 THE STRENGTH
OF BEAUTY,
THE POWER
OF ELEGANCE
Mario Pedol - Nauta Design
NAUTA DESIGN,
MILANO, 15 JUNE 2012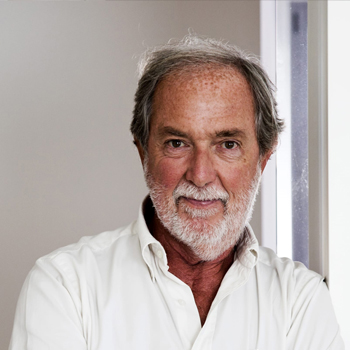 As promised, I am here introducing you to our Nauta Air range, starting from the Nauta Air 115, designed for Cantiere delle Marche, trying to let you feel and understand how we have decided to change perspective when thinking about the evolution of Explorer Yachts.
The main concepts behind this design were clearly transferred by CDM to us: starting from a platform of about 35 metre in length and 8,40 mt in beam – therefore of an unusual volume for this size of boats - we were asked to design a Vessel with an uncompromisingly Explorer soul and Timeless exterior lines, with a great deal of attention to the operational area due to the extended cruising with the owners onboard, for which the boat has been thought since the beginning. We immediately understood the goal: as many clients are definitely intrigued by the possibility of having an explorer yacht because of the sturdiness, seaworthiness, reliability and capability to sail safely the Oceans in comfort, but they are not immediately fascinated by the typical lines of this kind of vessels, there was the need of giving them the opportunity of owning one of them which was more appealing to their eyes without entering into the 'white yachts' world. And here it came the Air 115: an undoubtly masculine yacht, with just a few touches smoothening and somewhat hiding its tough technical and structural soul.
First of all we spent a lot of time analyzing the use and the function of this kind of vessels: they are built for owners who are aiming to spend a lot of time onboard, cruising many miles and enjoying long passages, in every kind of climate both entertaining and living a family life with no compromises.
From this first step we started designing a General Arrangement Plan in which the use of the volume has been directed both for giving well sized ambients to the owners and their guests, and the possibility of enjoying the surrounding scenarios both from inside and outside the boat, keeping the possibility to leave the sea in warmer climates. Big windows, low cabinetries, and a continuity between internal and external areas are in fact the keys to make the Air 115 a perfect boat to take advantage of every moment in whatever cruising ground worldwide, being it Alaska or Mexico, with just the family or a group of friends.
The same attention has been given to the operational areas: we succeded in creating a galley which is difficult to find on yachts of more than 40 metres, with clear separation between the chef and the stewardesses area of action, a real laundry, a dry and a cold storage area together with a proper crew mess. All over the boat, we have also dedicated every single space to storage, being it for he owners and the crew. This has also been possible thanks to the detailed analyses and development which we have carried out with a group of captains who have been of great help, giving us the possibility to start our job from the point of view of the ones who are really going to use yachts every day once delivered!
Up to now, we have worked on different clients inputs, and we have customized our design to their specific needs: from a version capable to have a 27 feet T-Top fishing boat and a transom modified for big game fishing to one designed for a water ski and diving passionate who is going to have all the equipment cleverly stored and positioned, we have demonstrated that the Air 115 is a Yacht which can fulfil any owner need with just a few modifications, thanks to the perfectly balanced design under every aspect. It goes without saying that this is possible also thanks to the flexibility and capacity of CDM in translating the technical needs of its clients, processing their request smoothly and effectively, involving them step by step letting them enjoing every single stage of definition of their future yacht.
Let me just finish this synthetic analysis with a note about the exterior lines: having worked cleaning and cleaning the design instead of adding details, in order to obtain an elegant and timeless line, we are very proud of having created a Yacht which – in spite of its simplicity – it is going to turn heads in each and every bay where she will drop anchor. Exactly as it happens with certain classic vessels, which still now, after decades, distinguish themselves because of the aristocracy of their lines.
Nauta Air: the strength of beauty, the power of elegance.
YOU MAY LIKE
THESE ARTICLES
link to article
UPTIGHT: DESIGNED
FOR OFFSHORE FISHING
Simon MIlovanovic Varvaro - Senior Project Manager