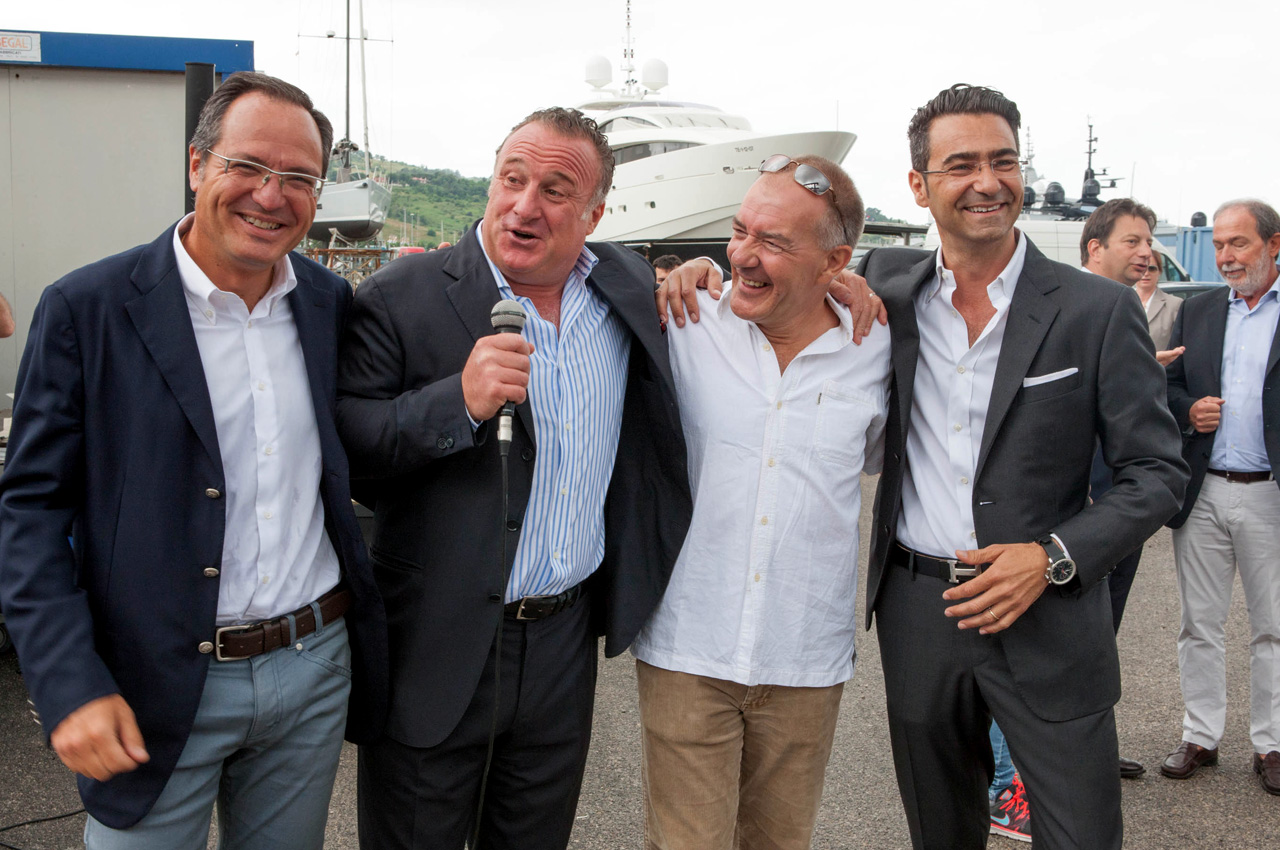 WE CELEBRATE OUR LIFE AT CDM EVERY DAY, ENJOYING WHAT WE DO!
Vasco Buonpensiere - Sales and Marketing Director
CANTIERE DELLE MARCHE,
ANCONA, 22 SEPTEMBER 2015
Vasco, you have just celebrated the Fifth Anniversary of the foundation of Cantiere delle Marche and the fourth Cannes Boat Show in a row. What are your feelings. If I think about the last five years and my life with CdM I am overwhelmed by the amount of different - but all positive - feelings I have. First of all I am enthusiastic. Every day. Every morning when I get to the office, or more often on a plane going to meet clients somewhere in the world, I feel excited, happy and enthusiastic. I am doing what I like more in my life after my family: I am putting all my efforts to make our workers, employees and clients happy. I am trying to be the best interpreter of our clients needs and desires so that our designers, engineers and workers will be able to understand them and make them happen. It is a great gift life has given to me, and I celebrate this every day, since we started CdM in August 2010. This is probably why we didn't actually make any event to celebrate this important achievement (5 years of activity and sheds full for the next three...): we celebrate our life at CdM every day, enjoying what we do!
What is happening in Cannes this year? We started 4 years ago with one yacht, then with two and this year we are proud to bring three amazing yachts at the show: our sturdy Darwin Class 86 M/Y Stella del Nord which is the first one spotting the new Darwin 2.0 features, the elegant yet masculine Nauta Air 90 M/Y Noga with stunning interiors featuring all the best of italian design, and our impressive flagship Darwin Class 107. It will be an amazing show with more than 23 visits already booked by prospect clients from all over the world, From Malaysia, to Australia to Germany etc. We think that this year we will break our record of visitors (already increased 30% last year! And obviously: we hope that, like every year before, the Show will bring at least one sale, if no two or three!!!
The summer season is now going towards a conclusion: any special memory of it related to CdM? This summer's memories can only be related to CdM as nobody here has taken any holiday! But there is an event which we are really not able to consider a professional commitment which I think is absolutely memorable: the spontaneous CdM Yachts gathering in Sardinia from 14 to 19 of August! It has been an incredible set of lunches, cruises, nights, dinners and laughs where CdM owners and crew gathered altogether with us and our wives sharing experiences, information, annedocte about me and Ennio and, most of all: their passion for yachting and cruising on real ships for weeks and weeks in a row. What makes this gathering very special, is also the fact that three owners who never met before kept on cruising together to Corsica for the following days. This makes my feeling that CdM gathers very similarly special people absolutely real!
We have heard of one of your boats going to Fort Lauderdale this year for the Show, is it true? Is CdM back again to the US shows? Absolutely! We will attend the Show with our Darwin 102 (first of three sold) which will be a very special boat built for an incredibly knowledgeable owner and a super professional crew. We say at the yard that this is the smallest 250 feet ever built because of all the customization and the special features you can find onboard. Nitrox Compressor, emergency Hyperbaric Chamber, 9 metre chase tender, 6 metre Mc Mullen Wing custom tender, 7/8 crew sounds enough to believe me? If not, come and see the rest in the US!
Last question is about the future: make a wish entering into the new Nautical Year traditionally beginning with the Cannes Boat Show. I wish that the market will keep on supporting us like it is doing now and that we will keep on staying humble and - if you like it - naive like they say about us, giving to our yacht owners the best experiences possible on our yachts. If this happens, we will be able to give work and serenity to all these incredibly loyal people and partners who have been working so hard to make all of this happen. Those who really deserve to be recognized as the protagonists of this happy venture.
YOU MAY LIKE
THESE ARTICLES
link to article
UPTIGHT: DESIGNED
FOR OFFSHORE FISHING
Simon MIlovanovic Varvaro - Senior Project Manager