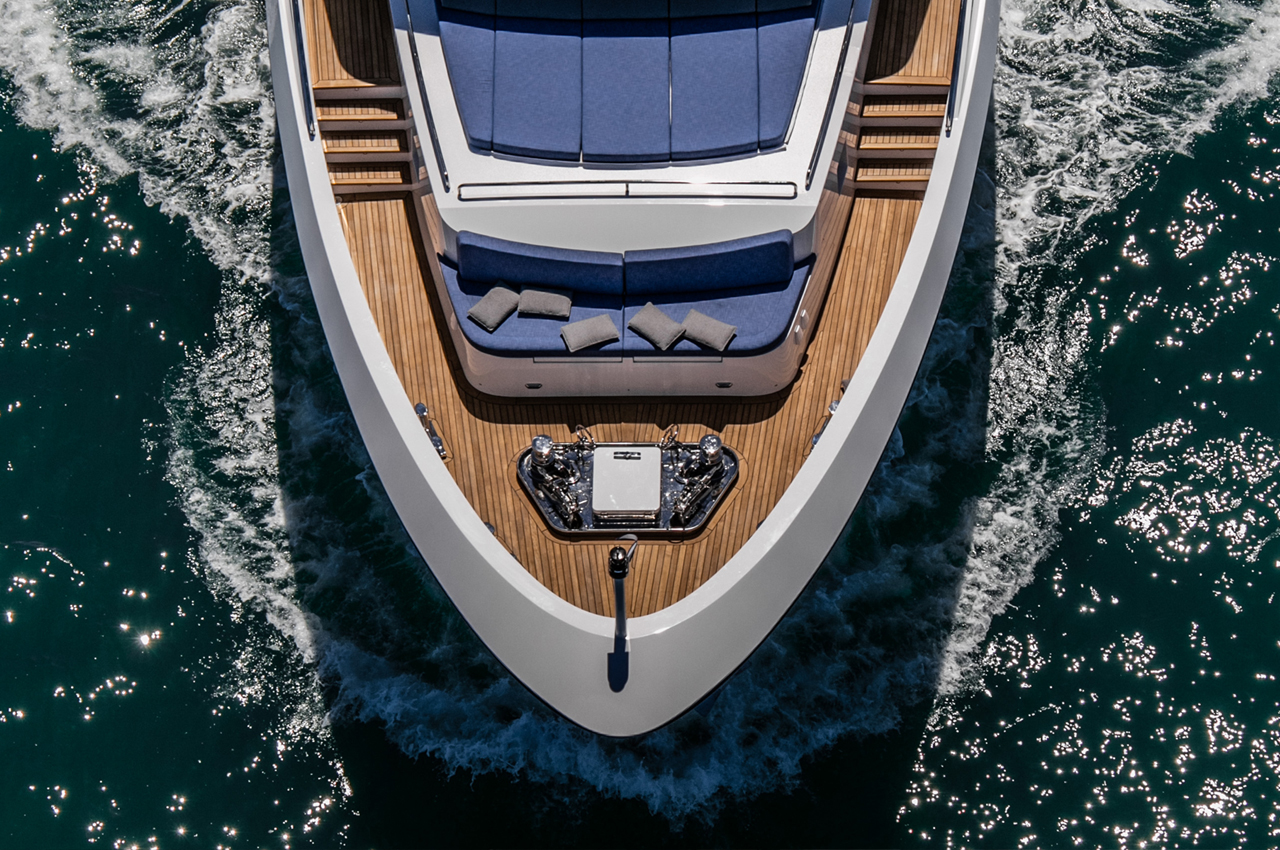 WHAT IT TAKES TO BUILD
EXPLORER VESSELS
Simon Milovanovic Varvaro - Project Manager
CANTIERE DELLE MARCHE,
ANCONA, 23 AUGUST 2017
How did you ended up designing and building explorer vessels? Explorer. This is the main word here. Yachts built to travel and discover the world without the need to rush into a crowded marina for refueling or to fill up the fresh water or fuel tanks. Yachts built to travel and not to see how long it takes to sail from point A to point B (which for fast yachts are usually very closed). Passion for navigation how it was intended many years ago, the marine environment, technology and serious naval architecture to guarantee the maximum performance (again... not in terms of speed) and safety at sea without compromises.
Why Cdm? Cdm is a shipyard which reflects the spirit which has grown with me along these years. Here we are all on the same wave length, we want the best for our customers and therefore for us. Any improvement, suggestion, idea from the shipowner side is always welcome and carefully analyzed and evaluated. We like the brainstorming approach, we like challenging ideas and comparison. Comparison between different experiences all converging towards a common target'our strong, seakeeping, comfortable, safe and environmental compatible yachts. Every yacht is different from the other, exactly like the people who are buying them. It is fully tailored... on the dreams of the people who want to navigate them.
How do you see the the future of the nautical market? More safety, comfort and efficiency in terms of performance and environmental respect. Research is the key word. Thousands of hours spent thinking and building, trying all the time to achieve a better result and sharing the dream of the emotions which our boat gives to their owners. I feel we are already on the way!
How do you feel inside your working team? Our team is composed by poliedric people. The majority of us have a wide range of experiences coming from different fields of the yachting industry. The team is therefore very dynamic and always open to analyse new ideas allowing us a continuous progessional but also personal growth. It is a development which goes on on a daily basis. I feel good!
Next challenge? Our next challenge is the same as our today and yesterday challenges. We want to do better, to improve our way of "thinking" the product we create, since we all know there is always space for improvements. I hope we will always manage to have the time to think and analyse what we do before we do it because this is what makes the difference between producing and creating. A big difference.
YOU MAY LIKE
THESE ARTICLES
link to article
UPTIGHT: DESIGNED
FOR OFFSHORE FISHING
Simon MIlovanovic Varvaro - Senior Project Manager