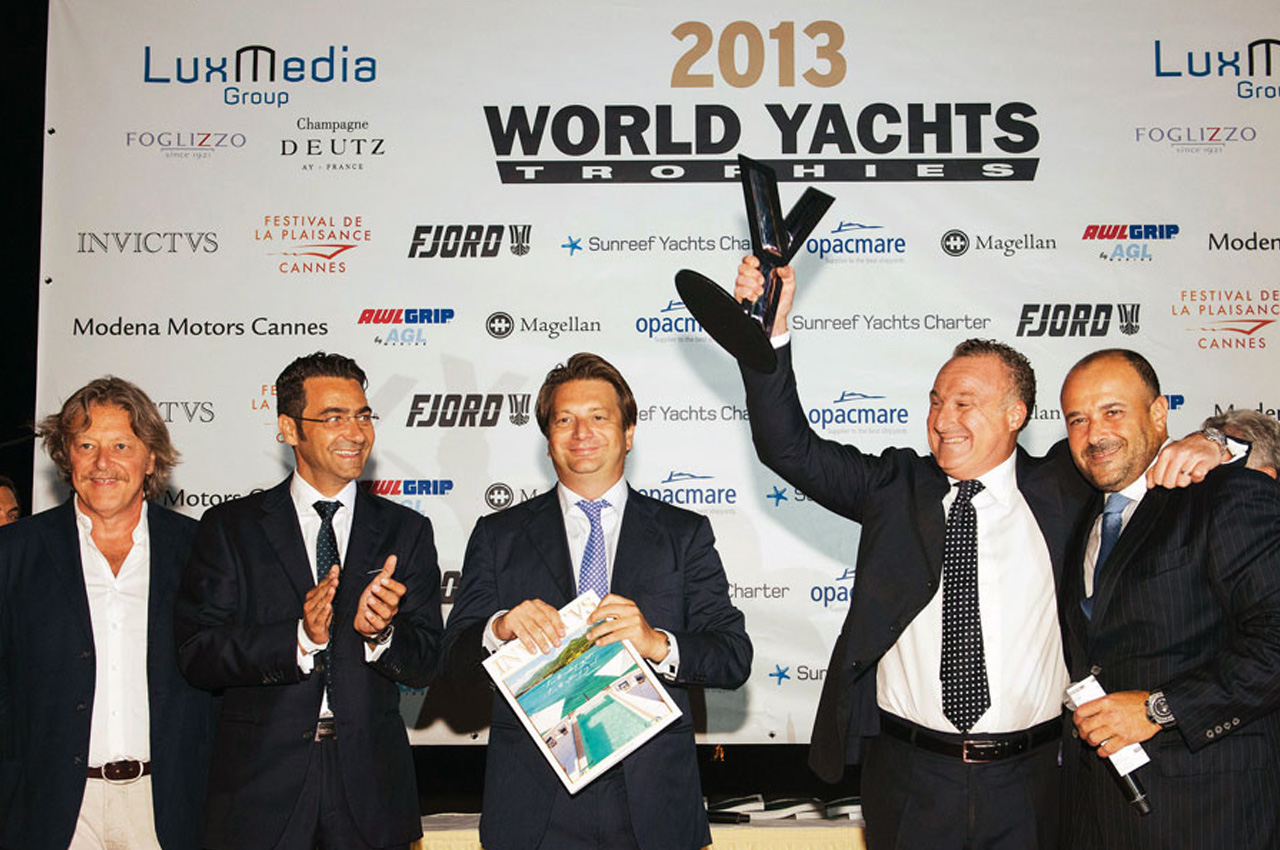 CDM WINS THE WORLD YACHTS TROPHY AWARD 2013
CANNES, 15TH SEPTEMBER 2013.
Cantiere delle Marche awarded in Cannes with the World Yachts Trophy in the Best Achievement Category with a special mention as Best Resilience.
Cantiere delle Marche, the worldiwde reknown shipyard building steel and alluminium displacement yachts from 80 to 145 feet has concluded an incredibly succesful Cannes Boat Show receiving the World Yachts Trophy in the 'Best Achievement' category. The World Yachts Trophies, organized and managed by the Luxmedia Group – publisher of the international magazines 'Yachts' and 'Invictus' – are considered among the most prestigious awards in the Yachting Industry and they are given every year to the best shipyards worlwide.
During a fantastic ceremony at the Beach of Carlton Hotel on the 14th of September, Cantiere delle Marche has been awarded in the Best Achievement category for its terrific worldwide success with both the Darwin Class and Nauta Air explorer vessels, in spite of the recent start up and the overall economical and industry negative scenario. Michel Karsanti – Luxmedia Group President – motivated the award indicating CdM's performance as 'unique and incredible', and defined the shipyard as 'the most resilient one', using a term normally given to those shares which increase value against the stock exchange market's trends. This is in fact what is happening to Cantiere delle Marche: growing at a steady pace against the Yachting Market's general trend which is still quite negative after 5 years from the beginning of the GFC.
Cantiere delle Marche is already considered a 'case history' in the yachting industry, thanks to its ability to perform incredibly well in a complex and depressed market, where also those iconic brands who have been the most important players for decades are suffering and struggling to maintain their position. There is a lot of Charles Darwin behind this performance as Ennio Cecchini, CEO of the shipyard says: 'this is definitely a demonstration that – as Charles Darwin stated many years ago – it is not the strongest who will survive, but the one who will adapt to the world changing. We are probably not the strongest ones, but we have definitely adapted our approach to the design and shipbuilding itself to a market which has changed radically in the last 5 years'.
With a solid backlog showing orders up to 2016, CdM looks at the future with a very positive attitude without losing any of its main specific characteristics: a production limited to 4/5 yacht per year, the utmost attention to the client and his needs, a meticulous approach to details and quality, and a strong, dedicated and always increasing commitment to deliver to its clients the best Explorer Vessels and cruising experience under every aspect.
Vasco Buonpensiere, shareholder and Sales and Marketing Director of the shipyard, comments this success: 'there is no doubt that CdM has very quickly become a key reference point for whoever is interested in this size and type of yachts, being him a yachtman, a client or a professional from the industry. In spite of the commercial activities started only in January 2011, the number of sales proceeds at a steady pace of one vessel sold about every three months, the visits at the yard are constant every week and we are more and more recognized as high quality builders worldwide. This Award is definitely a confirmation of our performance and it is of great stimulus for us to keep on putting all our efforts and vision in this incredible adventure!' He adds: 'As I did at the Award's ceremony, I would like to take this opportunity to thank all our clients, our workers, the brokers community which is helping us a lot, and our partners and suppliers: there is no success without a team effort, and the winner is always the whole team, no doubts about it'.
Gabriele Virgili, President of CdM, confirming the satisfaction for this award, declares: 'I am obviously very happy about this achievements and this Award, but we are a team which never sleeps on its positive results: we are now in fact in the middle of a process which will help us to work with even more efficient processes (without losing at all the artisanal characteristic of this industry), building the fundaments of an industrial plan for the next 5 years which target is to consolidate what already achieved and to do whatever possible to deliver to our clientele the best of the Italian excellence in terms of both engineering and style. We are not aiming to build more boats per year or to cut corners to increase production (we do not believe in the 'industrialization' of the processes to build a custom yacht), but to reach even more client's satisfaction and to consolidate our position into the market'.
YOU MAY LIKE
THESE ARTICLES
link to article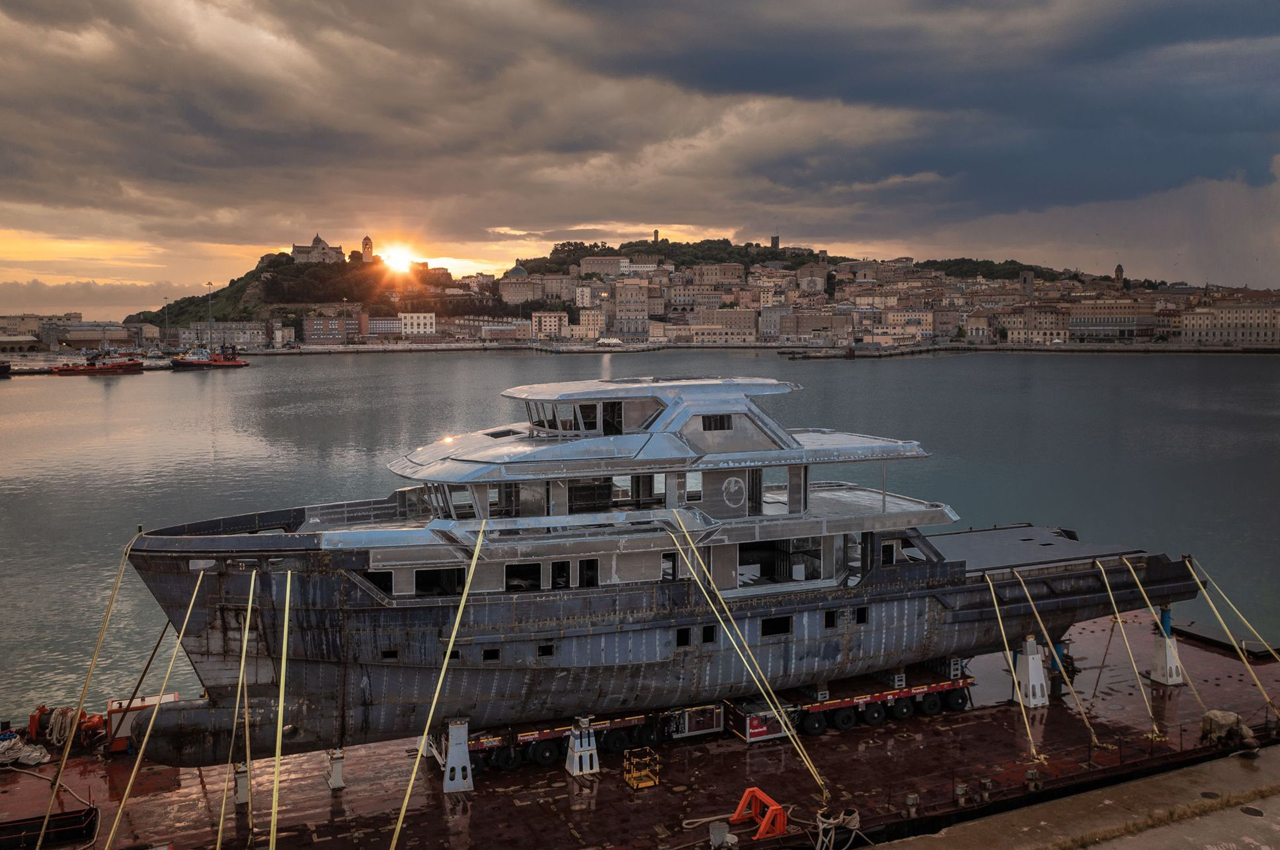 THE FLEXPLORER LINE
Ennio Cecchini - Co-Founder & President
Sergio Cutolo - Naval Architect & Exterior Designer
link to article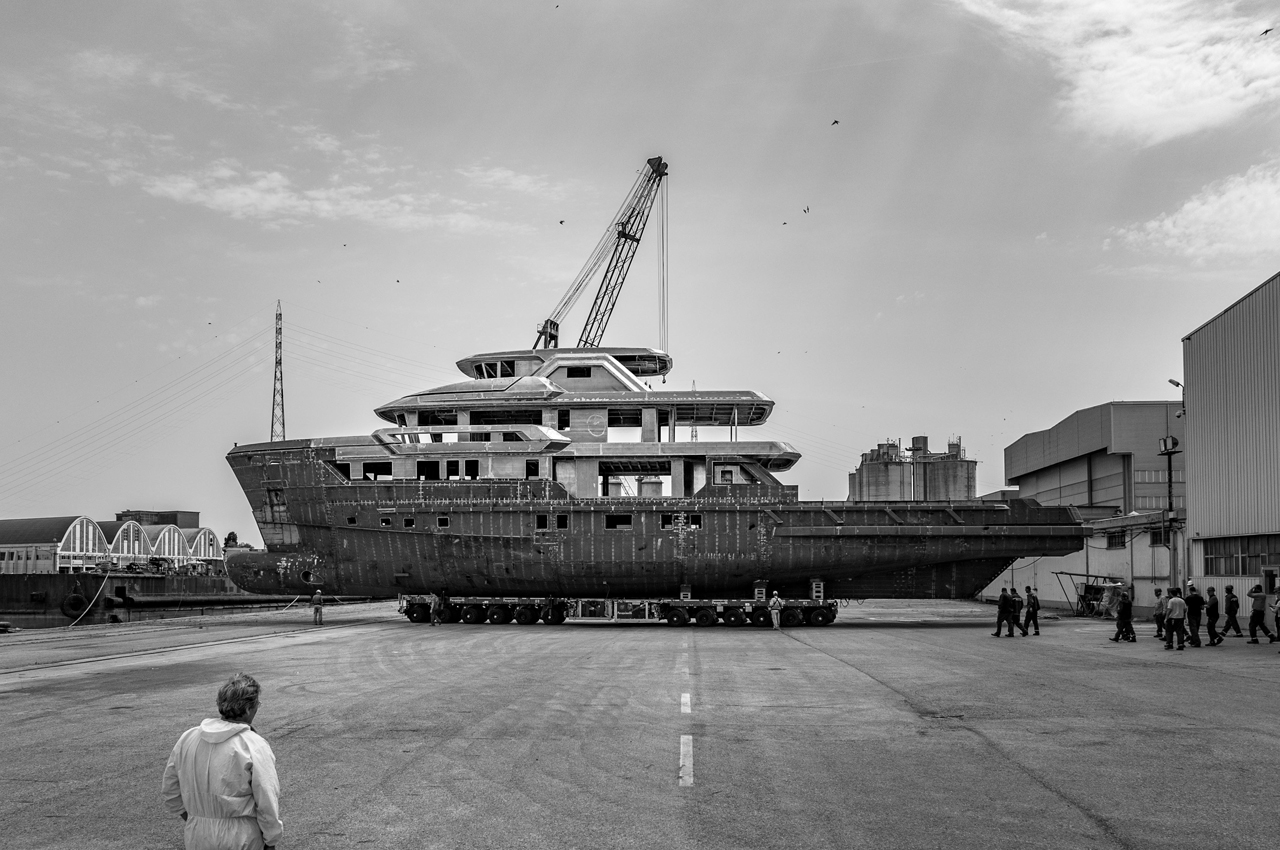 A FOCUS ON TECHNICAL
AND CONSTRUCTION ASPECTS
Sergio Cutolo - Naval Architect & Exterior Designer